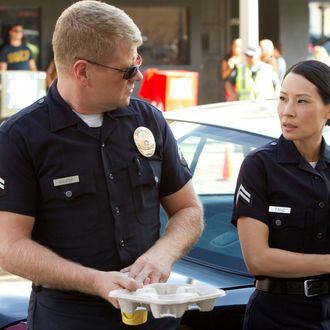 "SOUTHLAND" "Wednesday" / Ep 401 TNT Ph: Doug Hyun
Photo: Doug Hyun/Turner Network Television. A Time Warner Company.All Rights Reserved.
Southland is on the brink of renewal, Variety reports, with TNT and the studio haggling over how many episodes the fifth season will include: Warner Bros. wants thirteen, and TNT wants ten. If we're taking polls, Vulture would like thirteen, too, please. Southland is so good — think the pacing of an early ER with the dramatic potency of Homicide. Lucy Liu's arc last season was great, but we'd happily take double the Regina King for this go-round. Her Detective Lydia Adams is one of the  most complicated, interesting characters on TV right now.