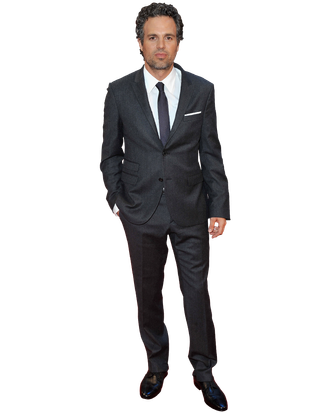 Mark Ruffalo
Photo: Jon Furniss/WireImage/Getty Images
Mark Ruffalo was considered an unlikely addition to Marvel's megatentpole The Avengers (which opens next Friday), but given the arc of his career, maybe his new role is oddly fitting: In the world of independent film, Ruffalo's the Hulk; but when it comes to big studios, he's still just Bruce Banner. Can The Avengers change that perception? Certainly, it'll add a gigantic blockbuster to the ledger of this indie film stalwart, but what will Ruffalo do with all that new star power? And does the 44-year-old actor, already so well liked in Hollywood, have any actual designs on megamovie stardom? To forecast his future, we polled industry insiders to ask one simple question: If Mark Ruffalo were a stock, would you buy, sell, or hold?

Stock History: A theater veteran, Ruffalo's big-screen career really took off when he played the troubled brother to Laura Linney in the 2000 drama You Can Count On Me. His highly acclaimed, sensitive performance led to studio offers, though the pickings weren't all that great (even Ruffalo would probably leave Windtalkers, The Last Castle, and View From the Top off his résumé). But in 2004, Ruffalo had a great year that pretty much summed up the rest of his career, making well-liked indies (Eternal Sunshine of the Spotless Mind and We Don't Live Here Anymore), while playing either a supporting role (Collateral) or the supportive boyfriend (13 Going on 30) in studio films.
Ruffalo continued to work steadily, and while he popped in 2007's underseen Zodiac, he got a big bump in 2010 when he played partner to Leonardo DiCaprio in Shutter Island and then won his first Oscar nomination for his sexy, shaggy homewrecker in The Kids Are All Right. While promoting the latter, he was offered the part of Bruce Banner in The Avengers, and the day that his deal went through, he hopped on a plane to Comic-Con to take the stage with the rest of Marvel's stable of stars.

Peers: It really depends on what you mean by "peer," since Ruffalo somewhat awkwardly straddles the two worlds of indie and studio film. In the independent universe, his phone rings incessantly with offers to star in cerebral films like the forthcoming Foxcatcher, a drama from Moneyball director Bennett Miller that would pair him with Steve Carell. In that realm, Ruffalo is routinely at the top of the casting lists, always mentioned in the same breath as well-regarded actors like Sam Rockwell (43), James Franco (34), Paul Rudd (43), Joaquin Phoenix (37), Eric Bana (43), and Edward Norton (42). Meanwhile, back in the hallways of Hollywood's biggest studios, Ruffalo is — for now, at least — toward the back of the pack of a long list of dramatic leading men who include George Clooney (50), Brad Pitt (48), Josh Brolin (44), Javier Bardem (43), and Carell (49).
Market Value: Few movies have been sold on Ruffalo's name, but the biggest projects he's been a part of are Shutter Island and Collateral, each of which grossed over $100 million. Three of his rom-coms hovered round the $50 million mark — 13 Going on 30, Just Like Heaven, and Rumor Has It — and while some of his indies have been relative hits (like The Kids Are All Right and You Can Count On Me), others have missed (like last year's mishandled Margaret, which made a scant $46,000).
What Hollywood Thinks: "He gets offered every indie movie," explained one top talent agent we spoke to, adding, "But he's not the studio guy. He's just 'casting,' in my opinion. He gets [studio] offers, but he's behind lots of other people; he's not on the same level [as go-to leading men]. He's perceived as an indie guy. He's like a Sean Penn, although he doesn't have that sort of cachet, because even Sean Penn's studio choices have felt very 'indie.'"
For proof of this, another agent points to the recent feeding frenzy to take part in Ridley Scott's adaption of Cormac McCarthy's original screenplay, The Counselor, at Fox. "Look at the names they were after: Brad Pitt. [Jeremy] Renner had an offer," explains this second agent. "They went to Javier Bardem for the part [Ruffalo] would have been considered for. Michael Fassbender, even though he's ten years younger than him, has much more juice than Ruffalo ever did or would."
A third agent is quick to point out, though, that Ruffalo may be at a moment to change this — provided he has any interest in doing so. "He may be 'just casting,' but he's really good casting: He's beloved by filmmakers," says our third agent. "And he plays the Hulk in The Avengers, which will almost certainly be the single biggest movie of this summer, so he can certainly take some credit for that."
A top publicist to several movie stars agrees that Ruffalo isn't part of the upper echelon and doesn't seem especially keen to acquire all the complications that come with entering it. "He promotes his movies; he does what the studio asks of him," says this press agent. "But he's not one of those guys who's 'chasing it.'"
Part of the problem Ruffalo faces during his extreme close-up with The Avengers is that the movie's campaign has largely ignored Mark Ruffalo, and when it hasn't, it has focused on the Hulk, rather than his moments as its alter ego, Bruce Banner. "In this movie, he is a cog on the wheel," says this publicist with more than a little dismay. "In most of the marketing elements, Ruffalo is in Hulk makeup: Every image is him as the Hulk, not him as Ruffalo. In the trailer, you get a little clip of him as Banner, but still. And just look at the new Entertainment Weekly: The Avengers are on the cover, but it's not Mark Ruffalo. It's Downey, Hemsworth, and Evans. They are ones to put bodies in the seats. The 'cover' with Hulk and Jeremy Renner is like, three pages in."
It's worth noting that the same sort of not-quite-a-leading-man rubric also applies to Ruffalo's fellow Hulk alumni, Edward Norton and Eric Bana, though it's arguable whether it was their lack of appeal that doomed the Hulk to secondary superhero status, or whether the lack of the Hulk's appeal means he'll always be played by second-tier players.
Whether or not Ruffalo could be a movie star, says this publicist, is almost immaterial, because "he doesn't want to have his public persona overshadow his life and do what he wants and not be pigeonholed by Hollywood." Having survived the diagnosis of a 2002 brain tumor — benign, it turned out — and having suffered the loss of his brother in 2008, it could be that Ruffalo feels life is simply too short to be imprisoned by fame. "I think he likes being able to go back and do theater, or whatever movie he's interested in," says this flack. "He's had a magazine cover here and there, but you could certainly not put him in the rubric of 'overexposed.' And that's what makes him interesting to Hollywood."
But the kinds of covers Ruffalo graces, and their infrequency, telegraphs much in Hollywood, according to this publicist. "For men, the pinnacle is the GQ cover because it connotes the male version of Vogue: classy, sophisticated, fashion-industry-important. So if the head of a studio sees someone on the cover of GQ, they're more likely to hire them than someone who wasn't, because the magazine business is, like anything, about money. And if his covers didn't sell, that gets out there very quickly. He's had a Details cover, and an Esquire cover, but those two combined don't amount to the reach of a GQ, and he's never had one."
The Analysis: The question is whether Ruffalo has any desire to make hay in the withering glare of a blockbuster's media spotlight. "He's kind of an eccentric dude," says this third agent. "I mean, he lives on a farm in upstate New York. He's a family guy. For a leading man, that's just not typical. And then you just look at his choices; I mean, frankly I was surprised he even agreed to do the Hulk. It's certainly a credit to [Ruffalo's manager] Aleen Keshishian, because it certainly wasn't his agency that was pushing him for that part."
It may have been unlikely casting, but it works: Ruffalo is totally charming in The Avengers, in a way Bana and Norton weren't (or perhaps couldn't be, given the scripts they had to work with). Critics and fanboys have been singling out his performance, but could it lead to his own Hulk movie, giving him the studio star vehicle that has long eluded him? At the very least, Ruffalo is nearly guaranteed to return for The Avengers 2, so he's got the safety of one surefire studio franchise to power him through the next few years.
As for those next few years, Ruffalo will be seen mostly sticking to what works for him: He's already shot a supporting role in a studio movie (Now You See Me) and a lead opposite Gwyneth Paltrow in an indie (Thanks for Sharing). Next up is perhaps the meatiest role of his career, starring in Ryan Murphy's adaptation of The Normal Heart — and if Murphy can actually pull that off, Ruffalo could find himself back in the Oscars' good graces. In any case, whether or not Ruffalo wants to go for the studio brass ring, the Hulk heat can't hurt when it comes to landing the most coveted roles in the smaller-budget dramas he does best. We'd advise him to stick to those quality projects, only taking a big movie if it's up to snuff.

The Bottom Line: "He's at a unique age," says our second agent, "Clooney and Pitt? They can't be in every movie. And I don't think he's a tough sell. He gets independent films. Maybe it's a Middle America thing — it is always a struggle to connect there — but he is beloved by directors, so I'd like to see what comes of The Avengers."
Adds our publicist, "People always like him when they see him. Could he someday win an Oscar? Absolutely. I think he makes really interesting choices. But could he someday be a huge movie star? I doubt it."
Buy/Sell/Hold: Hold for value.