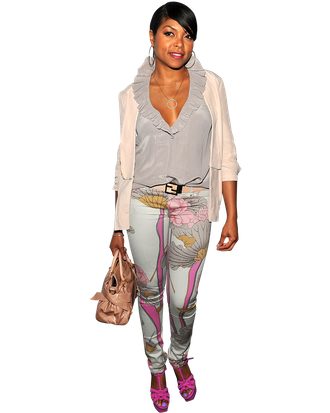 Taraji P. Henson.
Photo: Fernando Leon/Getty Images
Taraji P. Henson, who stars in the CBS drama Person of Interest and is best known for her roles in Hustle & Flow and The Curious Case of Benjamin Button, is flexing her rom-com muscles in this week's Think Like a Man, the adaptation of Steve Harvey's self-help best seller. We spoke with Henson about the role (she plays a driven executive who finds herself smitten with a dude below her pay grade), romance in general, and defending Chris Brown. 
First of all, should women really think like men?
I don't know if it's a matter of thinking like anybody, just going on your instincts [when you're dating]. Either the chemistry is there or it's not. That's basically what it boils down to. I don't care if you're a man, if you're a player: If God sends you that one and your heart is in it, you'll work it out.
You're a romantic.
Yes! That's why I've had my heart broken a thousand times. But that's okay; at least I know I can love. And I haven't become bitter. I think that's the key — not becoming bitter.
The script takes a few shots at Tyler Perry, whom you've worked with before. How will he take that?
I hope he takes it as a joke, because you can't deny his greatness. Have your opinion — the man has his own studio. He was the first person who called after I got after the Oscar nomination [for Benjamin Button]. The first person that called and said, "I have a movie [I Can Do Bad All By Myself] to offer you that you star in. Not a supporting role, but a star-making vehicle." That's the first call I got, so I have mad love for him.
This movie is very ensemble-y, though you play mostly opposite Michael Ealy, your love interest. How did you build your chemistry?
I just like when I work with people that are professional and good. Because when you're playing those heavy romantic roles like that, it's hard — I understand how people fall in love on sets, you know what I mean? But I don't mix business with pleasure; I just like when it's a professional setting and you can be free and trust the person that you're with.
You've used your Twitter for speaking out. Like when TV Guide put your two male Person of Interest co-stars on the cover, but not you. Has anyone ever told you to rein it in?
You know what? At the end of the day, I stand by who I am. I'm a good person. If anybody takes offense — read my [Twitter] timeline. I'm a well-rounded person. I'm a fair person, you understand what I'm saying? I stand by what I say because I know who I am, so it's not like I'm a loose cannon. I'm not on there going off and going crazy. You bring up the TV Guide thing: I only stated a fact. I didn't start a war with TV Guide. I didn't say anything about them. I stated a fact. All I said was, "You're not putting me on the cover with the two leading men. [There are] three of us." That's all I did. I stated a fact. I didn't even [mention] TV Guide. I don't even think I follow them.
Did it change how you tweeted going forward?
You have to talk to people honestly, and you gotta be passionate about stuff. I'm a passionate person, but at the end of the day, I'm a good person. I'm not on there getting into feuds with people. I don't respond. Some of the shit that I get on Twitter? Like, seriously?
What kind of stuff?
Oh, I can't even. I don't even want to put it out in the universe. I blocked it and it's gone. I'm not gonna feed that monster. It's a monster. And I try to tell my celebrity friends, when someone says something to you on Twitter, don't respond to that jackass. They just want attention. Treat them like children. Block them. Put them in the closet until they can come out and act right. [Laughs.]
I didn't realize that Chris Brown had a cameo in the movie. What did you think when you heard he was cast, especially as a guy who is a player?
I mean, I was happy for him because I know he really wants to act. You know, he's trying to get into acting. I don't dislike Chris Brown. I feel like we all have our skeletons. It's unfortunate when you're in the limelight the world gets to know about your dirty laundry, but as humans, we all have it, so for me to stand back and judge him and say that what he did was — is what he did wrong? Absolutely. I'm not condoning it. But what I'm saying is we have to allow each other to be human and we have to allow humans to make mistakes and to be big enough to forgive them. I guarantee you if you could give him those five minutes back, he would change it. If he could rewrite history, he would. But unfortunately, he's human just like the rest of us. And there are things that I wish I could erase. But unfortunately you can't. You just gotta live and you gotta learn. Do I feel like he's learned his lesson? Absolutely.
You also presented him with his Grammy. Have you gotten any sort of criticism for supporting him?
No. I support humans. If somebody told me something — if I heard something [bad] through the grapevine about you before doing this interview — it wouldn't make me not want to do the interview.