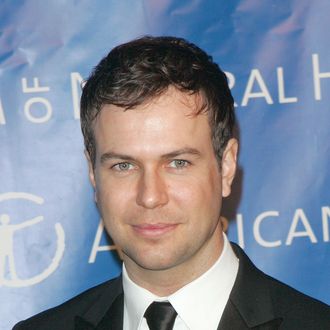 Photo: Jim Spellman/WireImage
As much as its an ensemble show, Saturday Night Live has very discrete eras, where the show winds up being defined by one or two of its most prominent players: Recently we've seen the Will Ferrell era, which segued into the Amy Poehler–Tina Fey era, and now we're coasting to the end of the Kristen Wiig era. But who will take over when she leaves? Taran Killam.
Killam has broken out this season — not that the other relative newbies put up much of a fight. Slightly more-veteran players Abby Elliot and the severely underused Bobby Moynihan haven't made a huge impact, with Elliot barely appearing this season and Moynihan seemingly relegated to recurring characters on Weekend Update. (Nothing against Drunk Uncle or Snooki, both of whom are great.) But Killam has out-Sudeikised Jason Sudeikis: He's handsome, he's a terrific mimic, he already has a few recurring characters, he's equally likely to play a dad or a son. On this week's episode, Killam nailed his cutting Andy Cohen impression:
On the Jonah Hill episode, Killam did the entire cold open alone, in character as Rush Limbaugh. He does a good Piers Morgan, he was funny as Tim Tebow, and his Michael Cera is both dead-on and sort of tragic. His recurring J-pop aficionado Jonathan Cavanaugh-san can be pretty funny, too, thanks to Killam's borderline crazy-eyes.
But more important than his broadcast SNL work is that amazing, silly Robyn video he posted on YouTube:
That was Killam's break-out moment. Anyone who commits that hard to something at 4:30 in the morning is going places, but Killam's dance moves also demonstrate a kind of physical humor the show doesn't have a lot of right now. Oh, Andy Samberg frantically flails around now and then, but think about Molly Shannon crashing through a table, or Will Ferrell's belly chub working its way out the bottom of a shirt, or Mike Myers's creepily fast-moving shoulders on "Sprockets." It's not that Killam is such a wonderful dancer (although he seems to shimmy just fine in those laborious "Les Jeunes De Paris" sketches), but there's a charisma and intentionality in the moves that makes them seem both more significant and more silly than they should.
Taran Killam, ladies and germs.