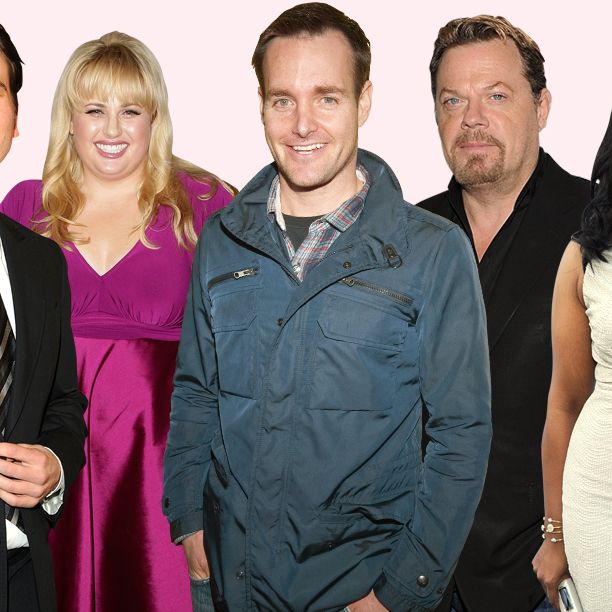 Pilot season is kicking into higher gear now, with scripts and castings and pickups afoot. A lot can and will change between now and the fall, but there are some early signs of promise from quite a few shows in the pipeline. There are girlie comedies, festive soaps, gritty hospital shows, schmaltzy romances, and — of course — plenty of cop shows to go around. Based on the scripts we've read and the buzz we've heard, these are the ones we're most anticipating.
Untitled Mindy Kaling Project, Fox
It's the funniest pilot script we read this year, and one of the stronger contenders in recent memory. Kaling stars as a smart, skilled doctor whose love life is a mess, but she only kinda cares about fixing it. Get ready for a huge wave of "Mindy Kaling Is the New Face of Feminist Comedy" stories, because … she is.
Mockingbird Lane, NBC
NBC has postponed this Munsters reboot until at least midseason, which isn't a great sign, and it's too bad: The seemingly doomed show actually had a shockingly great script. It's incredibly dark — way darker than we expected — and the tone veers from gruesome to heartfelt on one page, but it doesn't ever feel rehashed or stale. If anything, it's one of the more original shows floating around this year. Think family drama with dark, supernatural undertones, not hokey "I vant to suuuck your bluuuud" stuff.
Kevin Williamson's Cult Show, Fox
Kevin Bacon stars as a retired FBI agent who made a name for himself capturing a genius serial killer (James Purefoy). Now the killer has escaped from prison, and Bacon has to drag his weary ass back to the field — where he quickly learns that the killer has created a cult that will also be carrying out terrifying ritualistic killings, all across the country. The script is genuinely frightening, and while there are plenty of cop shows, this is really more of a murderer show. Violent, creepy, surprisingly un-stupid.
Golden Boy, CBS
Yeah, yeah, it's another cop show. But this one stars Mr. Pamuk from Downton Abbey! And he plays a hotshot who's both a really good detective and secretly a huge sleaze. Antihero's not quite the word — the show's not that deep, but Golden Boy certainly seems so.
Nashville, ABC
Connie Britton singing country music, y'all!
County, NBC
Remember ER? NBC's hoping you sort of do and sort of don't: You remember loving it, but you don't remember it clearly enough to consider another ensemble medical show a knockoff per se. County … is an ER knockoff, but it's from Friday Night Lights co-creator Jason Katims, so it's also very emotional and people sure are learning about themselves! And it stars Michael Imperioli and Katims's go-tos Michael B. Jordan and Jason Ritter.
Rebounding, Fox
You had us at "Will Forte." He stars as a heartbroken guy who's coping with his fiancée's death with the help of his pals, with whom he plays pickup basketball. The script isn't ha-ha hilarious, but it is impressively emotional — and we hear the first table read went great.
Super Fun Night, CBS
Three nerdy girlfriends decide to spice up their lives by having more fun on Friday Nights. It's a noble goal anyone could get behind, but it's all the more noble when it's a goal set by creator and star Rebel Wilson (Bridesmaids) and producer Conan O'Brien. Jenny Slate also stars in the multi-camera sitcom, which seems to guarantee a certain level of desirable whimsy.
The Goodwin Games, Fox
It's part of the Felicity trend this season: Scott Foley will star in this single-camera* comedy from How I Met Your Mother co-creators Carter Bays and Craig Thomas. He'll play the oldest in a trio of siblings who reunite after their father's death. Ugly Betty's Becki Newton plays one of the other siblings, and her run on HIMYM this season shows what a good fit she is for Bays and Thomas's gentle style.
Greg Malins/Greg Berlanti Pilot (formerly known as Oh Fuck, It's You), CBS
JoAnna Garcia and the newly cast David Walton have both starred in unsuccessful romance-centric sitcoms: Garcia on Better With You, and Walton on Perfect Couples and Bent. They're due for a hit! Walton starts as a reforming womanizer who realizes he's in love with Garcia, his engaged longtime friend and business partner. The addition of Greg Grunberg certainly doesn't hurt our enthusiasm for the multi-camera comedy.
* This post has been corrected to show that The Goodwin Games is actually a single-camera show. Even more promising.