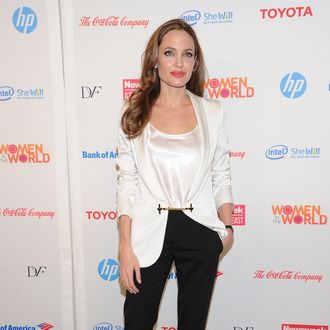 Photo: Jason Kempin/Getty Images
You can call it "No Country for Cold Men."

Insiders tell us that Ridley Scott's planned Cormac McCarthy narco-thriller, The Counselor, is rapidly heating up, so much so that Twentieth Century Fox is now in active discussions to distribute and possibly co-finance the movie — provided Scott gets the white-hot cast he's seeking.
For instance, on top of Michael Fassbender, who has previously been confirmed to star (which would mark his second collaboration with Scott following this summer's Prometheus), a Fox insider tells us that Angelina Jolie is in talks with Scott to take a small part.
The film, based on an original script by McCarthy, the Pulitzer Prize–winning author of The Road and No Country for Old Men, is about a lawyer who wants to get just a little bit involved in the drug business. He then discovers that there's no such thing as a little bit involved in the drug business.

Intriguingly, Disney announced yesterday that Jolie's upcoming film Maleficent will be released in the United States on March 14, 2014 — almost two years from now. Scott plans to start filming The Counselor this June, while Maleficent doesn't start until late June or early July, theoretically leaving Jolie enough room for a cameo.

It's too early to tell whether these high-flying talent talks will pan out, but one thing is clear: Fox will most likely be involved if the above names are above the title. We'll keep you posted.