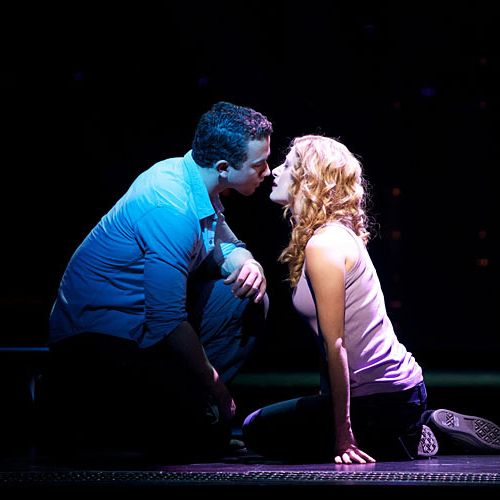 Richard Fleeshman and Caissie Levy in Ghost: The Musical.
Photo: Sean Ebsworth Barnes
Only one melody is truly unchained in Ghost: The Musical — the doggedly cinematic, dizzyingly engineered stage-musical adaptation of the 1990 film — and it's the one you already know by heart, the one composers Dave Stewart and Glen Ballard didn't write. Their original songs are considerably less righteous and perhaps better described as "textures," liquid crystal distillations that pass through us spectrally, leaving absolutely no residue, emotional or ectoplasmic. I call Stewart (a former Eurythmic) and veteran popsmith Ballard  "composers," but "producers" is closer to the spirit of the thing: This is really not music but production, which is keeping with Ghost's gestalt: It's the most impressively overproduced entity on Broadway, and there's no small thrill in witnessing the technical prowess on display, even when it batters your retinas like timpani on Orff night, drowning out everything else. The latest old-fangled Tupacnology (courtesy of illusionist Paul Kieve) is cunningly deployed to apparate violently departed banker Sam (Richard Fleeshman, remarkably solid in the face of the insubstantial) as he stalks Manhattan, learning the ghostly ropes — how to walk through walls, how to move objects — and trying to bring his murderers to justice, and hoping to set things right with Molly (the doe-eyed charmer Caissie Levy), the live-in dreamgirl who never got to hear those three little words.
Those words, of course, are "Light-Emitting Diode," and Ghost features a cast of thousands of them, marshaled to visual blitzkrieg by director Matthew Warchus, projection artist Jon Driscoll, scenic designer Rob Howell and lighting mage Hugh Vanstone. Great rotating walls of streaming imagery back and flank the stage action, in coordination with a proscenium scrim that materializes whenever full-frontal wizardry is required. It also helpfully mediates any and all troublesome sensuality: When Sam and Molly get busy on their mod couch (not at the potter's wheel — sorry, purists), their onstage coupling is immediately masked by what looks like a massive perfume commercial, where blurry, bluish body-parts upbraid one another in frictionless passion. Poor Sam. Long before he loses his body, he's already bodiless, parted from the fleshly realm by chilly digital stagecraft. Ghost completes Times Square's long transition into the most sexless spot on Earth.
But chances are, you're not paying a C-note for simulated Broadway coitus: You're here to watch a ghost ride the subway. Warchus & Co.'s re-creation of the famous duet scene between Patrick Swayze and the 2 train is duly eye-popping (although, as a sharp-eyed friend pointed out, it merely achieves digitally what was achieved physically 75 years ago). One wonders why the straphanger poltergeist (Tyler McGee) is a rapping mohawked punk from the late seventies, but one does not wonder for long: All eyes are fixed on the objects Sam learns to levitate in bullet-time slo-mo, helped along by the wave action of Bobby Aitken's wall-to-wall sound design and Christopher Nightingale's throbbing orchestrations. There is one fully human special-effect worth noting, and that's Da'Vine Joy Randolph, a Broadway newcomer who takes on the role of fake-psychic shyster turned reluctant real-life medium Oda Mae Brown (i.e. the role that won Whoopi Goldberg an Oscar). Tasked with juggling some distinctly late-eighties-sounding racial japery and standard Broadway-gospel numbers, Randolph nonetheless makes screenwriter-adapter Bruce Joel Rubin's twenty-year-old material sound fresh and new.
Little can be done, I'm afraid, with Rubin's lyrics. One feels for poor Bryce Pinkham, who plays Sam's morally shorted Wall Street colleague Carl: He must deliver, more than once, the couplet "This is the essence of high finance / So many steps when you do this dance." Egad. Fleeshman and Levy fare better, managing to display discernible biochemistry. Much of Ghost is loud and tacky enough to wake the dead, yet there are undeniable signs of vitality from the machine side of this Broadway cyborg. Mark my words, you'll be seeing this show's components repurposed for years to come. Prepare for a long afterlife.   

Ghost is playing at the Lunt-Fontanne Theatre.