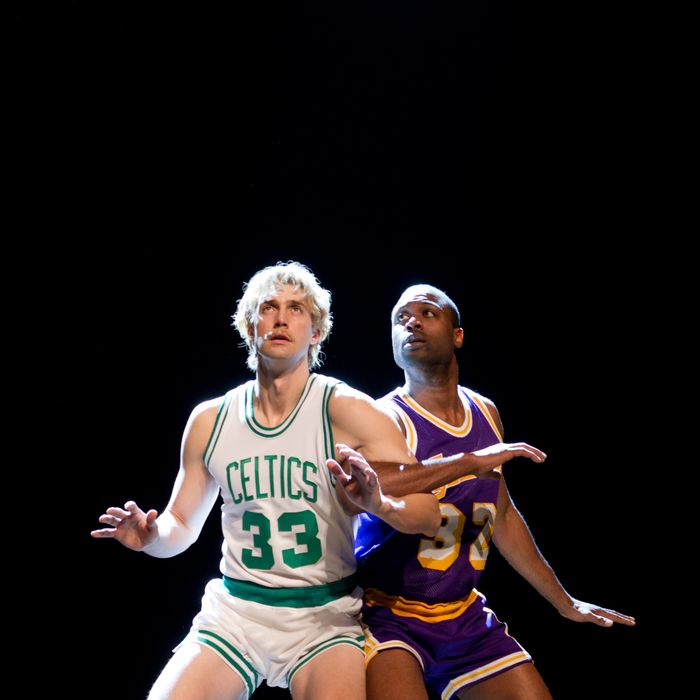 Tug Coker and Kevin Daniels in 'Magic/Bird.'
Photo: Joan Marcus
Magic/Bird is another sports pantomime from playwright Eric Simonson and director Thomas Kail, the team that brought us last season's inert, NFL–approved hagiography Lombardi. That show was an unsteady errand of stat-recounting and statue-polishing, with some basic bio-drama tricks thrown in (an invented narrator here, a speculative drama there). Magic/Bird is much better, mostly because it uses the dynamic eighties rivalry between basketball superstars Earvin "Magic" Johnson (Kevin Daniels) and Larry Bird (Tug Coker) as its mainspring. But it still can't conceal what it is: an animatronic Epcot pavilion seemingly designed and operated by the NBA. Edited together like a highlight reel (complete with a Coldplay song), Magic/Bird steers us gently but firmly from 1979 — when Bird and Johnson ignited their long contretemps in the NCAA Championship Game — to the early nineties, when both their careers came crashing to a close: Bird benched by his chronic back problems, and Magic, of course, retired forcibly (if not permanently) by the revelation that he'd contracted HIV. In between, we visit the high points: The '84 championship, the '85 championship, the '87 championship, the Converse ad, the trash-talking, the barely sublimated racial tension, Celtic Pride versus Showtime, and finally, cathartically, the "unlikely friendship." It was the NBA's very own epic poem and the invention of modern pro basketball, which had slipped to hockey-level cultural status until Johnson and Bird came along. Here, that tale is rendered stolidly in wax. Huge passages of information are simply broken into dialogue, warmed with stage lights and served, as is. It's a puzzlement: Fans already know this stuff, and neophytes may not care. Surely, producers saw this another way: Newbies will receive a basic education in the great Celtics-Lakers clashes of the Reagan era, old devotees will enjoy a misty-eyed visitation from the past. Perhaps. But anyone who shows up expecting a play — or anything they hadn't already gleaned from the Zeitgeist — will have to wait till next year.
Kail makes judicious use of game footage and even better use of his very limited staging opportunities. We even get to see a few snatches of highly controlled game-play, quickly and wisely truncated or transformed into stylized action. He's also assembled a deep bench of character actors — including Deirdre O'Connell and Peter Scolari — to perk up the backcourt with a gallery of supporting cartoons: Scolari as Red Auerbach and Pat Riley, and O'Connell as Bird's formidable mother, Georgia. But most of the credit belongs to Coker and Daniels. There's nothing in Magic/Bird one couldn't passively absorb from a skimmed Wikipedia entry, but they bring unexpected life to the party impressions they've been given. Daniels captures much of Magic's studied ingenuousness and even some of his more covert disingenuousness, even though the part is underwritten and carefully sanitized. (Never have professional athletes, in private conversations, talked more daintily about sex or race or even their rivals: The subject of how Magic actually contracted HIV is handled so delicately, you'd think Jane Austen did a polish.) Coker, a newcomer, is just plain excellent as the monosyllabic Bird, the "hick from French Lick" who was anything but a rube: Here's an actor who understands how to smuggle gravitas into a caricature. Magic/Bird, on its merits, is more pageant than play — it should be performed on the hour in the lobby of the Hall of Fame, not on a Broadway stage. But the team behind it is talented enough to make fans and possibly even non-fans forget that, sometimes for two, three possessions at a time.

Magic/Bird is playing at the Longacre Theatre.