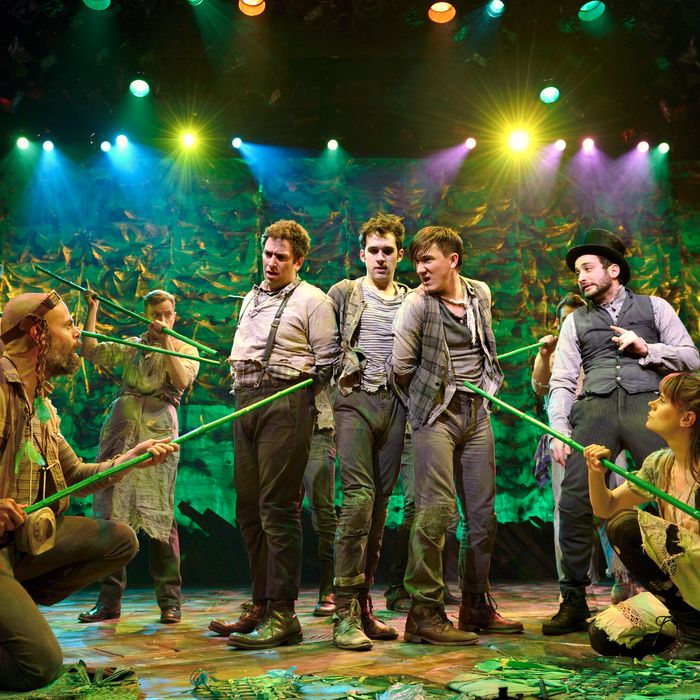 'Peter and the Starcatcher.'
Photo: O&M Co.
Peter and the Starcatcher is a tiny show, but spectacle, wit, and joy spill out of it like treasure from a magic pocket. A cast of twelve, a couple of trunks, and a versatile length of rope yield more storytelling than most oversize spectaculars can manage. There's a naval battle, an island full of savages, and a mermaid chorus, all packed onto a stage that feels no bigger than a conch shell. It's a measure of the production's low-tech delights that when Molly, the cast's sole female, ingests a dose of "starstuff," crosses her legs and levitates, Jeannie-style, it looks like a miraculous effect, even though we can clearly see the plank, the pivot, and the hand on the seesaw's other end.
Written by Rick Elice and based on the novel by Dave Barry and Ridley Pearson, the play tells the story of how a nameless orphan who never had the chance to be a child becomes Peter Pan, happily trapped in perpetual boyhood. The script skirts cutesiness, and Peter could easily have slipped over the border from sublime silliness to just plain dumb. Fart jokes, malapropisms, and a running gag about who gets to be the Lost Boys' leader — this is not obviously starry stuff. Nor is a tribe of bellicose mollusks chanting war cries gleaned from an Italian restaurant menu: "Gnocchi! Cannoli!" My 14-year-old loved the show, but later groaned in disbelief when he read the lines on the page.
Yet the directors Roger Rees and Alex Timbers and the entire cast have such exuberant belief in this material that they (magically?) turn it into a miniature classic. Celia Keenan-Bolger rescues Molly from insufferable superiority with her energetic charm. Adam Chandler-Berat is equally adorable as the pre-Pan Peter. But the show really belongs to Christian Borle, who plays the bumbling pirate Black Stache (the future Captain Hook) with stunning comic virtuosity. It's not much of a revelation to say that Stache loses a hand in the most idiotic of ways; Borle unleashes a torrent of "ohmigods" so fantastically varied that it has the makings of a YouTube classic. With his fat greasepaint mustache, bouncy brow, and rubber legs, he channels Groucho Marx, and no sooner has the pirate lost his limb than he is cheerily counting his advantages. "I have an armada of options at my former fingertips," he says. "Perhaps I'll never be a concert violinist or a reliable juggler, but I can still win Wimbledon." That's the show's spirit, too, foaming with irresistible optimism.
Peter and the Starcatcher is playing at the Brooks Atkinson Theater.