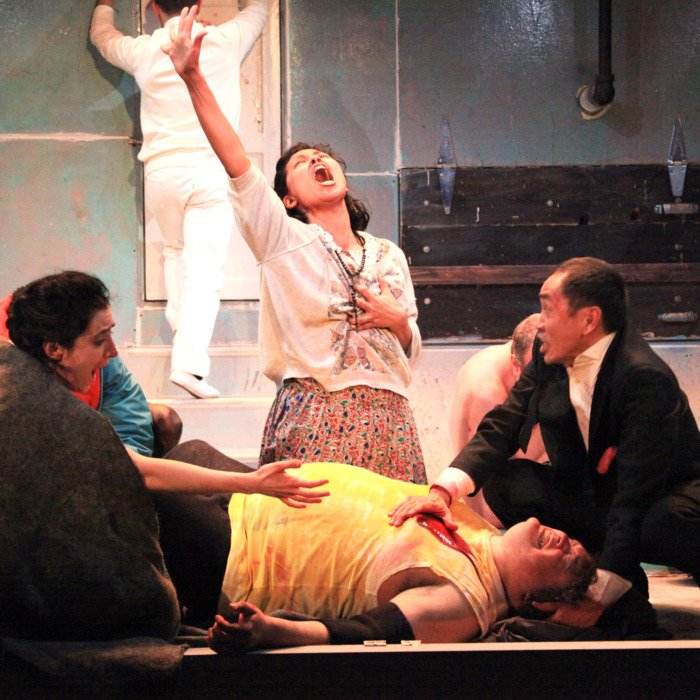 'Massacre.'
Photo: Sandra Coudert
According to the press materials, Jose Rivera's Massacre (Sing to Your Children) is set in a small New Hampshire town, but it has the sticky-sickly-sweet smell of one of Stephen King's demonically polluted Maine hamlets of the damned. (Or maybe something a little more squalidly, chauvinistically "Middle American": There's the obligatory swipe at Wal-Mart, plus the general mood of flatness and unprofitability that, in plays like this, usually clings to some generic Jesusland exurb.) For a few furious, fetid moments, Massacre seems like it's going to be almost as much fun as a King-ian spatter-fest. But when the animal masks come off, and the vomit is tidily bucketed, and the tympanic-membrane-smashing sound design subsides (for a while), we find ourselves trapped in a slaughterhouse with a band of familiar characters — a bit too familiar, I'm afraid, and a bit too typological, and a bit too garrulously poetic about their inner demons. Even the eventual entrance of the devil himself (Boardwalk Empire heavy Anatol Yusef) — in taunting, secret-revealing, divide-and-conquer mode — can't quite liven up this death house, which manages to accomplish, tediously, in two and half hours, what it might've easily wrought upon us in one blood-pounding act.
The quick-and-bloody: A motley assortment of downtrodden townspeople has been assembled by the allegedly charismatic Panama (JoJo Gonzalez, strategically miscast, though the strategy eludes me). They've banded together to slay Joe (Yusef), apparently some sort of chthonic demon-god with the form of a small, unassuming man and the liquid-toffee accent of a Disney villain. Having weeviled himself into the heart of this sleepy 'burg, Joe, we're told, has set up a kind of local security state to control the grown-ups while indulging his appetite for sex and children; meanwhile, the crops wither and fertility rates plummet. Joe's a demon-father of the sort Rivera, author of Marisol and Oscar-nominated screenwriter of The Motorcycle Diaries, has explored throughout his 30-year career — but is he real? Or is he, like all devils, a fleshly expression of his victims' own well-documented weaknesses and moral failures? You already know the answer; you are, nevertheless, made to wait for it. The first minute or so of Massacre is a brilliantly sustained banshee wail of madness, conducted with perfect ruthlessness by Brian Mertes, as masked assassins in carnival costumes, baptized in gore, come pouring through the crannies of Andromache Chalfant's charnel-barn set. (Rarely have mere doors and windows — all just a little bit wrong, in size, placement, and shape — managed to be so unsettling.) They've killed the Beast! Hooray! But once we're all confined to the barn, the play immediately begins to implode. Does Panama have feet of clay? Did Joe's ex-paramour Lila (Sona Tatoyan) try to tip him off? Does neurotic Hector (a frighteningly hysterical Brian Averett) have something to hide? Is Vivy (Dana Eskelson), Joe's chief betrayer and wielder of the killing machete, really the virtuous schoolmarm she presents herself to be? And so on. Chances are, you've got some of these reckonings Tivo'd already. Rivera — whose magical realism seems to have grown grislier and grislier over the years, as he's traveled from the living room of The House of Ramon Iglesia to the hellscape of Marisol and beyond — transcribes his characters soul struggles in long passages of oddly immobile stage poetry. Not much is gained in the process. The devil is in the details, and too many of these details feel xeroxed, then obsessively filigreed with lyricism.
The cast bears up well, for the most part, and I'd like to take a moment to single out William Jackson Harper, an actor with a unique and indelible presence, whose work I've been enjoying in show after show for a while now. His edgy, one-eye-on-the-exit Eliseo, one of the play's more straightforward creations, comes closest to blending the diabolical and the righteous, the guilt-ridden and the shameless, in the playfully heartsick way Rivera probably intended. Harper's got a face like a carved mask, and he knows how to wear other masks on top of masks. His voice, when it's in a purr, sounds like a creaking open in the dark; it makes your mind whip around. Great tools, great control: I've never seen Harper fail to command a moment. Keep hiring this guy. Can't wait to see what he does next.    

Massacre (Sing to Your Children) is at the Rattlestick Playwrights Theater through May 12.