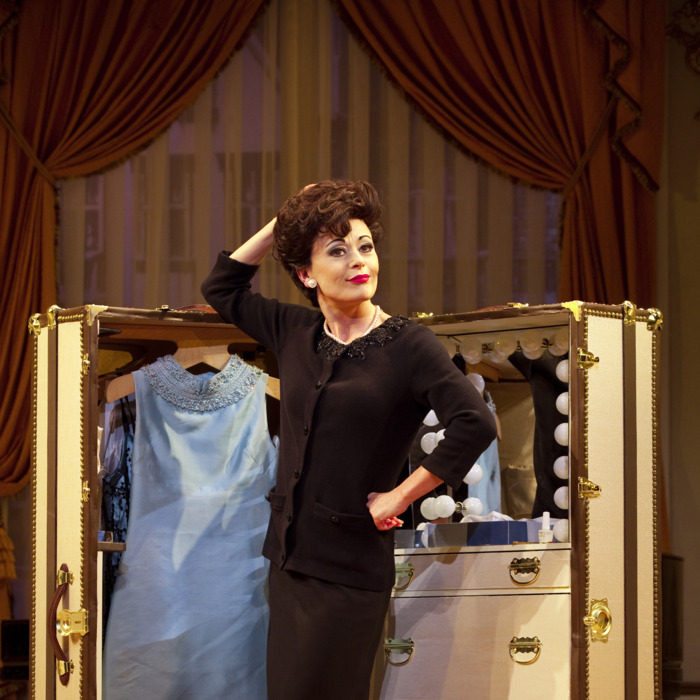 Tracie Bennett as Judy.
Photo: Carol Rosegg
Martyrs are dying all over Broadway this season: We have at least two bleeding Jesi on deck (at last count), and now comes the Passion of Judy Garland, incarnated in all her latter-day volatility by Olivier-winner Tracie Bennett. Peter Quilter's End of the Rainbow is a strange hybrid: an utterly conventional stage entertainment (i.e., the worshipful, wet-to-the-touch bio-rama wedged tight with informative wiki-asides) crowned with an obliterating performance that verges on performance art. We pick up Judy's story in the last year of her life, in 1968, at a five-week cabaret engagement at London's Talk of the Town nightclub. The action swivels from her increasingly erratic stage performances to the squalor and hysteria of her hotel suite, which she shares with her soon-to-be-fifth (and final) husband, the grimly closeted hipster opportunist Mickey Deans (Tom Pelphrey); a piano; and a piano player, Anthony (Michael Cumpsty), the compassionate composite who personifies Garland's gay fan base. Mickey, the classic mid-century self-loathing homosexual, accuses Anthony of wallowing in Judy's pain: Is she a gay icon or a gay fetish object? Anthony, in turn, wants to "save" Judy, the woman he credits with "saving my life." And Judy herself — despite her constant reaching out — is barely aware of either of them. This is her final sprint, after all, her break for the wings. Ours, too: There's just not much play in End of the Rainbow, and we hang on to Judy's look-ma-no-brakes musical numbers ("The Man That Got Away," "By Myself," and many others) as if they were life buoys. Like its close spiritual cousin, The Mountaintop — another British import — Rainbow is somewhere between a Quantum Leap episode and a costume party, a carefully stage-managed day trip back in time. It takes Bennett to push the night's proceedings over the line into uniquely apocalyptic territory.
Tiny and spritelike, she does a fierce, eerie vocal impression and has pipes of pig iron, but Bennett neither looks nor behaves quite like Garland. (No more than, say, Anthony Hopkins looked or behaved like Nixon.) She hits lots of signature poses, some so spine-bending you fear for her safety, but her interpretation seems more informed by the clowning of Lucille Ball (or, sometimes, Roberto Benigni) than the tottering, teetering, tippling defiance of the late Frances Gumm. It's a paradox: Bennett is a shockingly gifted physical performer, in full control of every square inch of her body. There's nothing haphazard in her lacerating masochism, every flop, twitch, and floor-crawl is carefully calibrated. "I raised my hand in that spotlight and I saw it tremble — tremble!" she gasps. "That's when I know — when I'm losing control." Please. This Judy, Valley of the Dolls pantsuit and all, is the result of perfect control, meticulous workmanship, machinelike choreography. For all the high-pitched hysteria, there's not a hint of real chaos, real threat, real danger. (Pelphrey, who bears an unsettling resemblance to the young John Travolta, plays Deans as mere punk, not the Angel of Death the play so desperately wants him to be.) This is a Passion posed in exquisite detail by Bennett and Terry Johnson, who directed the Menier Chocolate Factory's recent, Tony-winning revival of La Cage aux Folles. For his part, Cumpsty, always a pillar of strength, produces the persuasive illusion of a sympathetic character in what is, unmistakably, a Jiminy Cricket construction. End of the Rainbow isn't a bore, but — for all its twitchy star's wall-climbing — it is strangely static. Quilter can't save Judy, so instead he's cryogenically freezing her at the extreme apogee of her agony. There's an uncomfortable contradiction here that the play begins to unpack, then abruptly abandons. Cut to song! Why examine one's own heart, after all, when Saint Judy's perfectly willing to sing hers out, at great personal expense, eight nights a week?