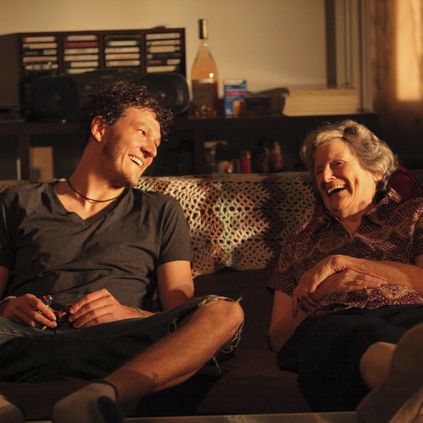 Gabriel Ebert and Mary Louise Wilson in "4000 Miles"
Photo: Erin Baiano
4000 Miles (at the Mitzi E. Newhouse Theater through June 17)
Leo (brilliant newcomer Gabriel Ebert) is a mysteriously shell-shocked slacktivist who's just completed a cross-country cycling trip, Seattle to New York City. Something went badly wrong along the way, but Leo's not ready to talk about it, not even with Vera (Grey Gardens' Mary Louise Wilson), his cantankerous communist grandmother, whose Greenwich Village apartment becomes Leo's crash-pad and emotional rehab center for a season of soul-searching.
4000 Miles sounds like an inert, hide-the-ball living-room drama, but the ever more promising Amy Herzog (After the Revolution) has pulled off a clever trick: She uses highly conventional writing to plumb (but never milk) a highly unconventional relationship between two lost idealists, both tested by life, both teetering on the brink of ideological incoherence — both at a loss for words. Wilson's Vera is an absolutely delightful creation, an old-fashioned Village Red who's outlived her husband, her comrades, and her movement. She has beautiful, unforced chemistry with Ebert, who's captured, perhaps better than any actor in any medium, the terrorized paralysis and nomadic anomie of the Occupy generation: Never have the words "But it's cool" been delivered with such casual panic. Herzog's ending feels airlifted in, and the play simply runs out of room, but this is a quibble that's more than offset by director Daniel Aukin's delicate touch, which blesses every superbly observed moment.
Elephant Room is finishing its run at St. Ann's Warehouse this weekend. Last chance!
Welcome to the secret lair of Louie Magic (Steve Cuiffo), Daryl Hannah (Trey Lyford), and Dennis Diamond (Geoff Sobelle), three sad-sack magicians whose dreams and ideals seem to have peaked in the early-to-mid-nineties. (To drive home the shopworn-schmo thing, they have a Geocities-era website.) They've achieved the first task of any great mountebank: They're already fooling themselves — though not about their talent for legerdemain. (Each of them really is a proficient illusionist.) Their occult order is called "The Elephant Room Society of Conjurers and Magi," and they've brought the actual clubhouse into the theater, on cinder blocks.
The pleasantly ramshackle show they perform is a goofy bric-a-brac of magic tricks (some fairly wondrous, some you've probably seen before, and at least one you can smell before it arrives) and dark-ish, post-Apatovian man-cave clowning. Daryl, a self-styled Billy Jack swaddled in deerskin and depression, is dealing with a painful divorce; Louie was dubiously "tutored" by an elder magician; Dennis is too narcissistic to function outside of his stage character. The show occasionally feels pulled awkwardly between its comic storytelling and its feats of conjuration (it could use just a few more of these), and we've seen certainly versions of these misfits for many years now, from the worlds of Wes Anderson and Arrested Development to the realm of Kenny Powers. But what doesn't kill Elephant Room only makes it stronger: By the end, we've been seduced by the boys' rec-room prestidigitation, sucked into a world where even the magicians themselves can barely tell illusion from delusion.

The Taming of the Shrew (at the Duke on 42nd Street through April 21)
With detectably elevated esprit de corps, the cast of director Arin Arbus's delightful new Shrew (from Theatre for a New Audience) romps around a frontiersville set in hoop skirts and bowlers — but don't for a minute mistake this for one of those tiresome "concept Shakespeare" productions. The point isn't oaty accents or silly costumes: It's to replant one of the Bard's more troublesome comedies (by modern standards of gender parity) in an edge-of-the-world milieu, where the light S&M interplay of volatile, irrepressible Kate (Mad Men's Maggie Siff) and head-gaming mock-patriarch Petruchio (Cymbeline's Andy Groteleuschen) feels more like a subversive goof on convention than the iron-fisted upholding of it that George Bernard Shaw famously denounced. (Arbus also wisely preserves Shakespeare's "Induction," which firmly establishes the artificiality and untrustworthiness of the "message" play we're about to see.)
Siff and Groteleuschen, both comic grandmasters with real sexual magnetism, are about as perfect a pairing as can be expected in this life: She's a head-on duelist; he's a parrying jester. The terms of their strange truce are never made entirely clear — is Kate truly "tamed," leashed to the will of her mad-in-craft husband? Or does the game go on, perhaps in precincts where we're not invited? Mystery is chemistry, and Arbus isn't interested in affixing an easy answer to her production. She's more interested in the funny-ugly, catastrophic mechanics of the piece. She's assisted by such comic pros as John Pankow, Saxon Palmer, and John Christopher Jones, whose droopy pantaloon Gremio is a highlight. Another score: The score, a brilliantly assimilated period collage, assembled by puckish history-in-a-blender composer J. Michael Friedman (Bloody Bloody Andrew Jackson). 

Being Shakespeare (at BAM's Harvey Theater through April 14)
Veteran British actor Simon Callow (Four Weddings and a Funeral) has been telling and retelling Shakespeare's life-story — scholar Jonathan Bate's version, that is — for over nine years, in one form or another. The show arrives at BAM at just under 100 minutes, not including intermission, and Callow, 62, whose eyes are plenty merry until the moment they're wolfish, whose impish flickerings can rise into a column of sudden flame, has the whole thing down to a science. Shakespeare biographizing, of course, is more art than science, as next to nothing is known about his life. Being Shakespeare isn't as rangy or as ambitious an extrapolation as Stephen Greenblatt's Will in the World. This is a primer, a straightforward map of the generally accepted basics of Bardography: the childhood in Stratford, the lost years (spent soldiering? writing? wandering in Italy?), the London years, triumph and decline.
Pegged loosely to Jacques's "Seven Ages of Man" speech from As You Like It, the show is an involving lyceum lecture with dramatic lighting cues and spectral stage design from director Tom Cairns. Callow gets to embody Lear, Falstaff, Hal, Hamlet, Lady Macbeth — it's a sampler of choice declamations, and embody them he does, a few lines at a time. If you're looking for a more personal relationship with the simple, self-taught glover's son who more or less invented Western Anglophone culture, a man whose precise historicism is debated almost as fiercely as Christ's, then get thee to the Harvey. Callow may give us more of a walking shadow than a man, but, according to Shakespeare himself, the difference is purely academic.