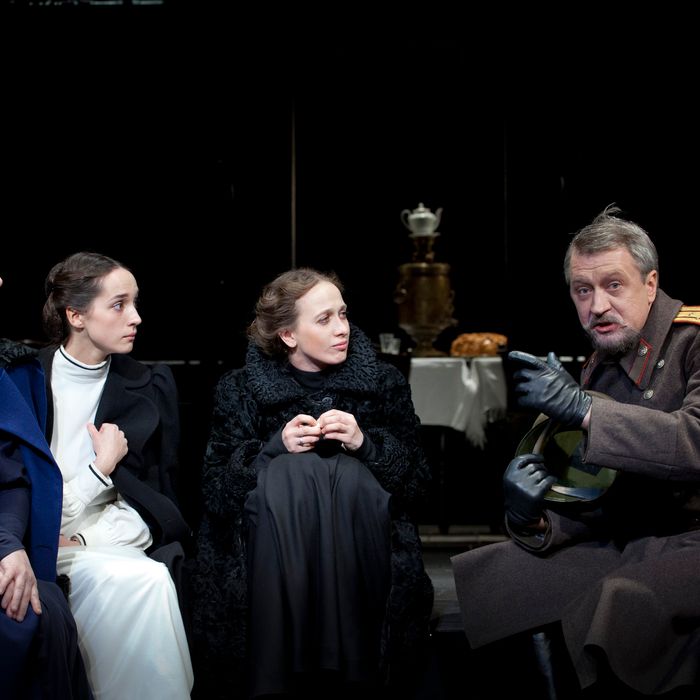 The Three Sisters (at BAM's Harvey Theater through April 28)

Chekhov, as presented to American audiences by American theaters, can feel like a twilight stroll through endless, airy gardens of mere ennui. Has this happened to you, theatergoer? Well, let Maly Drama Theatre take care of that for you. The storied St. Petersburg troupe performs its unadorned, unromanticized Three Sisters with cigarette-burn eyes turned imploringly and accusingly at the audience as often as at one another. (Your eyes, meanwhile, will be flicking up at the English super-titles: Maly performs in Russian.)
The company restores an urgent, gut-level anguish to Chekhov's terrarium of provincial discontent, delusion, and paralysis: When Irina (Ekaterina Tarasova), youngest and lamentably sanest of the permanently displaced Prozorov daughters, feels the intrigues and entanglements of small-town life (and, more devastatingly, human life) strangling her spirit and finally gives full voice to that famous, futile yearning ("to go to Moscow, to Moscow!"), her voice shreds the endless night in a wail pitched somewhere between orgasm and kidney stone. Her sister, badly married Masha (Elena Kalinina), is no bored, bed-hopping housewife here; she's half-mad. And the eldest, Olga (Irinia Tychinina), is a shell — a shell that, rather tragically, still imprisons a tiny, fruitless spark of life. The light itself seems to be rationed in director Lev Dodin's vision, which makes us of a grim house facade that presses forward steadily downstage, herding everyone to the edge.  
In Masks Outrageous and Austere (at The Theaters at 45 Bleecker Street through May 26)

It's hard to do justice to the later works of Tennessee Williams — more precisely, it's easy to do them too much justice, primp them beyond their merits, and ignore the fact that they were often tacky, repetitive, paranoid, obvious, and pickled in 80-proof self-pity. David Schweizer's world premiere of Williams's final (if not finalized) full-length play, In Masks Outrageous and Austere, does no such thing. The production is itself outrageous, to the point of tastelessness and silliness — in other words, perfectly suited to the material.
When dying doyenne Babe (undertaken, a little unsteadily, by the great Shirley Knight) says, "I was brought here under drugs in an almost unconscious condition," she is describing not only her circumstances but those under which the play was composed. Babe has a much younger, homosexual show-husband named Billy (Robert Beitzel), and he has taken an even younger lover, Jerry (Sam Underwood). All three are held in a strange beachside compound run by a security cadre called "The Gideons." (They are identically decked in high-sheen suits and sunglasses, and homoerotically cross-wired with one another: Welcome to the Gaytrix.) The compound itself, as designed by James Noone, is a cokey, pointillist collage of Studio 54 and a pre-AIDS bathhouse, and impressively ugly use is made of giant LED walls (which display, among other things, diverting cameos by Buck Henry and Austin Pendleton).
In Masks isn't the least bit austere, with all of Williams late-stage obsessions (surveillance, betrayal, opportunists and conspirators preying on his discombobulation, and the acceptance of death as the ultimate truth) on splashy display. By the time the otherworldly Alison Fraser turns up as a decorum-obsessed neo-Victorian with a Japanese cosplay getup and a mentally disabled yet sexually precocious son (Connor Buckley), the whole effort has lost structural integrity — it's held together only by the gravitational force of Williams's conviction that truth is still ours to face and reveal, that there is still dignity in the attempt. There's little dignity in this gaudy, goofy, occasionally grotesque production. (Personally, I'd have preferred it a bit more grotesque, a bit more outrageous.) But Schweizer isn't fighting the bad taste of Williams's sunset period: He's surfing it. And that's worth seeing, if only for hardcores. 
Poor Baby Bree in 'I Am Going to Run Away' (at The Club at LaMaMa through April 29)
I'd recommend a nighttime performance of Poor Baby Bree in I Am Going to Run Away, a dark and quietly demented cabaret of obscure vaudeville songs unearthed and performed, in pitch-perfect periodese, by downtown chanteuse Bree Benton. In fifteen insidious little ditties, Benton — whose voice quivers spectrally across time, like a singing saw captured on a wax cylinder, and whose unsettlingly iron-eyed waif routine combines the creepiest aspects of Garland, Temple, and Helen Kane — explores the tender darkness of turn-of-the-century America: a little bit Meet Me in St. Louis, a little bit Devil in the White City. Benton does absolutely no hand-holding, and Baby Bree, the character, never winks at us: She may sound like a cartoon, but Goddamn it, she really, really, sincerely wants to run away with the circus. This is itself off-putting for modern audiences, and those expecting either broad comedy or strutting cabaret camp will be sorely disappointed. Benton is casting a subtler but stronger spell, one best appreciated in the dead of night, after the circus has left town and all that's left are snatches of half-forgotten songs on the wind.