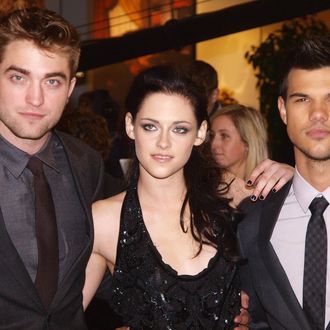 Photo: Max Nash/AFP/Getty Images
In a note posted to Facebook yesterday, Twilight director Bill Condon let his beloved Twihards know just how close he is to finishing Breaking Dawn Part 2: Filming ended over a year ago, editing is deep under way, and the cast and crew are now headed back up to Vancouver for "the last tiny missing pieces." No new scenes or dialogue, Condon assured fans, just some technical work and continuity shots. But, he added, "Rob and Kristen will be there too, to pop in those gold contacts one last time …" 
As for how the next several months will unfold:
I'm excited to report that before too long we'll have another trailer for you to decode. And wait until you see the first posters — they're unlike any "Twilight" images you've seen before. And then November 16th will be upon us and the final film will be yours!
And just in time, what with Hunger Games mania already winding down.