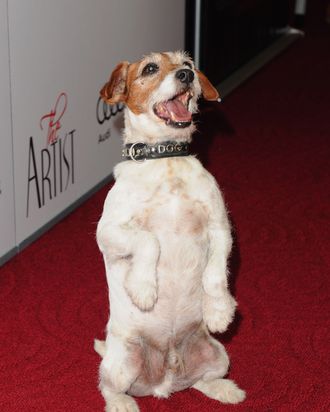 Uggie the dog arrives to a special screening of The Weinstein Company's "The Artist" at AMPAS Samuel Goldwyn Theater on November 21, 2011 in Beverly Hills, California.
Photo: Alberto E. Rodriguez/Getty Images
So much for retirement! Since the Oscars, The Artist's mysteriously shaking wonder dog has lined up gigs pitching Nintendo and attending the White House Correspondents' Dinner; now the AP reports that a division of Simon & Schuster has inked a deal with Uggie to write his autobiography, Uggie: My Story, which will be out in October (so long from now!). Let's hope it has as much humping as Frank Langella's memoir.