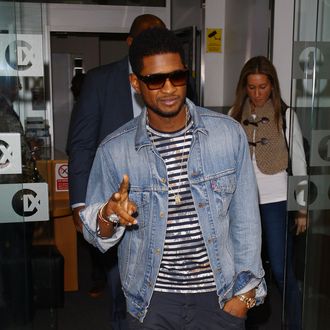 Usher seen at BBC Radio One on March 22, 2012 in London, England.
Photo: Neil Mockford/FilmMagic
Before we dive into the latest offerings from Usher's upcoming Looking for Myself, let's go ahead and revisit "Climax" long enough to whisper "aaah! it's so good" and quietly jam out for three minutes. Okay! Everyone ready for the new stuff? We'll start with "Scream," the dance-y Top 40 single from Max Martin and Shellback (who brought you "DJ Got Us Falling in Love Again") that dropped last week. It is, in five words, a Serious Song of Summer Contender — radio-ready, a prime release date, and a well-calibrated dumb-catchy chorus (non-word hooks are always a smart move). Reality-television producers are already splicing together summer-fun-time montages to this song. But if you're more interested in very specific methods of pleasing the ladies and/or wish that Kelly Rowland's "Motivation" had been sung by Usher, then check out "Lemme See," which came out today and features a good deal of bedroom excellence. Also, Rick Ross raps about Trayvon Martin at one point, in case that was something that you'd been waiting for. A lot to choose from here; pick wisely.