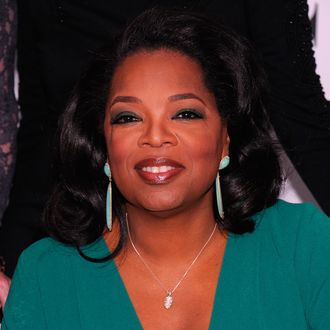 Professor Oprah
Photo: Andrew H. Walker/2012 Getty Images
On Monday afternoon, I attended Oprah's Lifeclass at Radio City Music Hall. What is Lifeclass? It's a trademarked, watered-down version of The Oprah Winfrey Show, in which she leads the audience toward spiritual enlightenment with the help of what she calls "thought leaders" like Tony Robbins, Bishop T.D. Jakes, and Iyanla Vanzant, who showed up on the last season of Oprah to spend two episodes begging for forgiveness after signing a failed talk-show deal with Barbara Walters twelve years ago (she will soon have her own show on OWN).
In bringing Lifeclass on tour (my show was pretaped and is set to air later this month, although the evening show with Robbins was broadcast live on OWN), Oprah wanted to expand the spiritual journey (a fact Oprah made sure to remind us of every 40 seconds or so), but it felt more like a vaguely religious revival at a megachurch. For almost three hours, we gave thanks, we visualized stuff, and we opened our "heartspace" over and over and over, as Oprah and Deepak Chopra (or, in her words, "Oprah and Chopra") taught us that we were all "spiritual beings having a human experience."
Here's how it all unfolded.
Noon We're shuttled into Radio City half an hour earlier than our tickets had suggested, and the energy is at fever pitch.
12:19 p.m. In an attempt to find the men's room (which is eventually turned into a second ladies' room because … obviously), I get lost in a sea of pastel pantsuits. Oprah later acknowledges the general fashion theme, telling us we "look like Easter."
12:30 p.m. Oprah's right-hand lady (and OWN CEO) Sherri Salata waltzes through the lobby, eliciting shrieks from those who recognize her from Behind the Scenes. She pauses to put her hand on my forearm and offers a warm, "Welcome."
1:03 p.m. I find my seat. "You've done your work, and the work is just beginning!" screams the audience warmer-upper, and thousands of minions return the love.
1:14 p.m. The three giant screens onstage remind us to connect to the free Wi-Fi to record our every thought (and pictures and video) on Twitter and Facebook.
1:26 p.m. LMFAO, Chris Brown, and Whitney Houston blare over the PA, and live-tweets with the hashtag "#lifeclass" appear on the screen hovering over the stage. Many of these tweets boast about audience members "rocking out to Whitney," which feels weird, but that's just me.
1:45 p.m. Two OWN staffers take the stage to walk us through previews of shows to come on OWN. It feels like an Upfront geared exclusively toward people with vision boards.
2 p.m. Oprah takes the stage, eager to thank us for coming "with our spirits wide open," reminding us that it was "love" that brought us all together on this fateful afternoon. Tears are shed.
2:05 p.m. Says Oprah, "You are a human being having a spiritual experience." Noted!
2:09 p.m. Oprah lets us know that "CBS News's Gayle King" is in the house. Hi, Gayle!
2:17 p.m. Oprah reminds us (for the first time among many to follow) that she is a Christian, but that you don't need religion to discover your inner spirit, just the ability to "open your heart." Then she quotes the Bible.
2:40 p.m. Deepak Chopra joins O onstage, and we are told to close our eyes and picture (in this order): a red triangle, a tree by the bank of a river, a full moon, and a blue room. The point? To prove that we do not have to be controlled by our thoughts. I don't get it, but everyone else does, as evidenced by the consistent applause, nodding, and "mm hmmm"s that follow every single metaphor uttered over the course of the afternoon. Every single one.
2:46 p.m. We are reminded, again, that we are "human beings having a spiritual experience." Yup, got it!
2:49 p.m. During a commercial break, Oprah, fully miked and feeling ignored by her staff, asks, "Can anybody listen to me?" The crowd roars.
3:01 p.m. Surprise guest and noted source of positive energy Perez Hilton emerges to share his story of being "born again," which, unfortunately for everyone, he compares to an "a-ha orgasm." How does one draw an "a-ha orgasm" on Tori Spelling's face, I wonder?
3:14 p.m. Fully miked during a commercial break, I overhear Deepak Chopra ask Perez Hilton if he follows him on Twitter. "I retweeted you the other day," responds Perez, at which point I think I might be dead.
3:18 p.m. Of Perez, Oprah tells her suspicious audience, "If he can't be redeemed, neither can I." Rapturous applause.
3:20 p.m. Reminder: "You are a human being having a spiritual experience."
3:25 p.m. Oprah descends into the audience with a microphone, at one point asking all of Radio City, "Don't I look THIN?" Rapturous applause.
3:40 p.m. Oprah shows little patience with the growing number of fans screaming at Oprah, telling us all, "You're not getting cars. Didn't you hear anything about my struggling network?"
3:53 p.m. Getting tired of posing for pictures, Oprah says she can't stop to take a photo with everyone, to which an audience member replies, "But this has been on my vision board!"
4 p.m. An audience member, being held in Oprah's embrace, grills Perez, not buying into his "rebirth." Eventually, she confesses that her beef boils down to Perez's Twitter spat with New Kid on the Block Jonathan Knight. Oprah has no idea who that is, but she's clearly happy to see Perez challenged.
4:09 p.m.p.m.Oprah mentions retweeting Rainn Wilson's retweet of a T.S. Eliot poem, and again, I might be dead.
4:10 p.m. "Eat WELL before you join us!" reads the invitation to Lifeclass. Apparently, I didn't eat well enough, so I buy some $6.00 M&M's to tide me over. Whatever, I'm living my best life.
4:13 p.m. A woman who flew in from Australia takes the mike to thank Oprah for helping give her inspiration to write a novel, although her tangent about visualizing a bicycle (as per O's instructions) gnaws at Oprah's patience, culminating in her telling the Australian to wrap it up, since "we're on television." Oprah needs to add "less chatty audience" members to her vision board.
4:16 p.m.The woman next to me, who has flown in from Miami (and is recording Lifeclass on both her iPhone and iPad), invites me to a weekend-long Tony Robbins event. I politely decline.
4:21 p.m. It's official: All the men's bathrooms have officially been sanctioned off for the ladies, so now I have to hold it.
4:24 p.m. Oprah thanks us profusely for, again, opening up our heartspace and coming to Lifeclass to "be fed." "When you leave from this space," she says,"it is my deepest prayer and gratitude that you came and opened your heart and your life to live beginning today."
4:27 p.m. One more time in case we forgot: "You are a human being having a spiritual experience."
4:30 p.m. Oprah prerecords on-location well-wishes to Elie Weisel for an award ceremony, and refers to it as "you know, one of those banquet things." We'll take your word for it, Fancy Pants.
4:34 p.m. Oprah says good-bye, and now I need a nap.