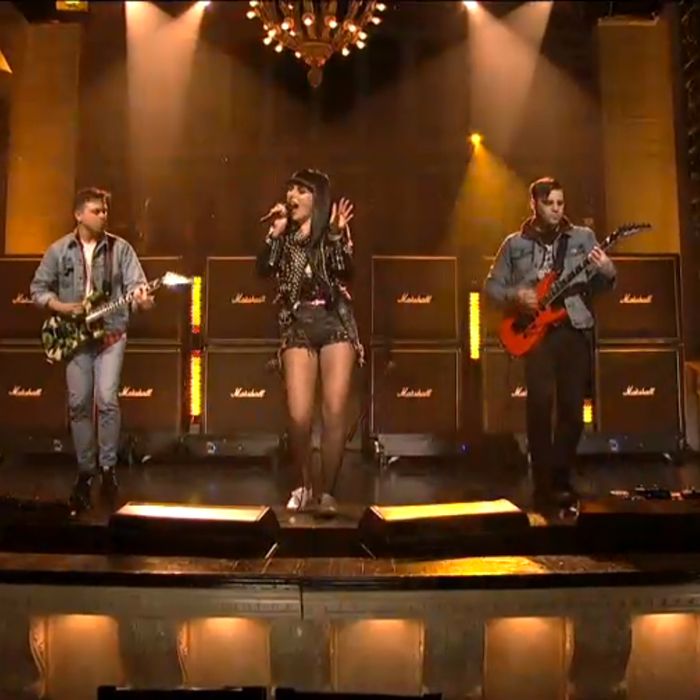 A week after Lana Del Rey's infamous Saturday Night Live performance (a fairly disastrous showing that jumpstarted the second national wave of LDR backlash), SNL attempted to address the controversy with a Weekend Update sketch. Kristen Wiig swanned out onstage dressed as Del Rey and offered the following fake apology: "The music stage on SNL is hallowed ground, and I failed to reach the high bars set by past guests like Bubba Sparxxx, The Baha Men, and Shaggy." The bit was funny (sorry, Baha Men), and not too harsh on Lana, who had surely been attacked enough that week. But the joke was built on a premise that hasn't been true for a while, or at least for the better half of this season, with acts like Del Rey, Sleigh Bells, Karmin, and Gotye taking the main stage. SNL has developed an unexpectedly trendy, Internet-aware musical taste. You could almost — almost — call them hip.
It's important to note that "trendy" does not always equal "good," and that many of this year's newer guests will likely be remembered as the "Shaggy" or, worse, the "Ashlee Simpson" of 2012. Lana Del Rey will spend the rest of her career trying to live down her national television debut; Karmin, the remarkably expressive "rap" duo plucked straight from YouTube, probably won't be heard from again. But these artists, known almost exclusively on the internet, are a big leap for SNL, which has traditionally relied on established pop acts and dyed-in-the-wool rock stars, the bands that your parents have heard of (Paul Simon, who has been on the show twelve times, comes to mind here). And with a lineup of relatively untested performers, the SNL stage is vital again in a way that it only used to be when wild cards like Sinead O'Connor or Elvis Costello rolled through. You have no idea what will happen.
The show is taking some gambles on the Top 40 side, too, booking international up-and-comers like the U.K.'s One Direction and Australia's Gotye who, for all their chart success, have only just become recognizable names in the U.S. (Ask five of your friends to pronounce "Gotye"; we'd bet you get a 3–2 can/can't split.) SNL has always had a soft spot for folksy indie acts, but Sleigh Bells, for all their buzz, are not exactly folksy. Even Bon Iver, a Grammy winner with two critically acclaimed and music-blog-adored albums under his belt, is a bit of risk in an SNL context. Remember that a separate part of the Internet spent a good part of Grammy night Googling "Who Is Bonnie Bear?"
Part of this shift can be attributed to an increasingly segmented listening public (Adele is the only singer we as a nation can agree on anymore); some of it is obviously SNL's grab for younger viewers and an afterlife on Hulu. But it's given a little of the live, "prove yourself" American Idol excitement back to the professionals (or would-be professionals) and made the music segments interesting again. Yes, it's still jarring to see YouTube celebrities or international pop stars launched into the spotlight, and sometimes they don't deserve it. But would you really rather watch another generic U2 or Madonna set than witness the cultural meltdown that was Lana Del Rey's "Video Games"? At least it gave us something to talk about. And sometimes — as in the case of One Direction, who despite their obvious backing track and lack of movement, kind of killed it in the charm department — we get to watch tiny adorable pop stars grow their wings. That is worth 100 awkward Karmin gestures, in Vulture's book.