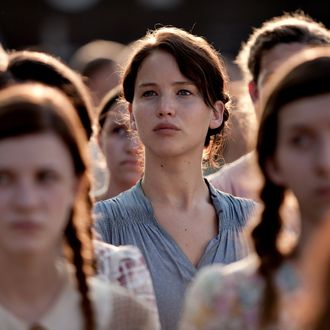 Jennifer Lawrence stars as 'Katniss Everdeen' in THE HUNGER GAMES.
Photo: Murray Close/Lionsgate Films
Who will Lionsgate select to direct the Hunger Games sequel Catching Fire now that original helmer Gary Ross has departed? The Los Angeles Times got wind of the studio's shortlist of seven or eight names — all men — who are currently under consideration. You'll be happy to hear that Alfonso Cuarón is among them, though it's unclear whether he'd be game to repeat the sort of franchise-freshening magic he was credited with after directing the third Harry Potter movie. Also in the mix: David Cronenberg, whose Robert Pattinson–starring Cosmopolis is tipped for a Cannes bow next month, and Alejandro Gonzalez Inarritu, whose work on 21 Grams and Babel definitely proved that he has a Ross–like affinity for using a shaky cam. Will Lionsgate be able to woo a marquee director when there's so little time for preproduction? Stay tuned!