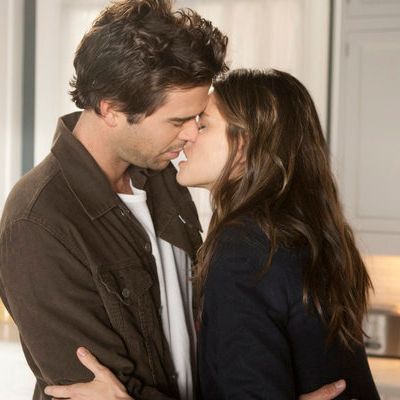 Photo: Michael Desmond/NBCUniversal, Inc.
If you didn't notice that NBC had been airing an Amanda Peet sitcom called Bent Wednesdays at 9 p.m. for the last two weeks, don't worry: Hardly anybody else did, either. Last week's back-to-back episodes of the half-hour comedy averaged a mere 2.4 million viewers, drawing a smaller audience than a repeat of The Big Bang Theory on TBS airing the same night. The new show's last two of six episodes will air tonight — NBC raced through the series in record time, the broadcast equivalent of "Keep it moving, nothing to see here … " — and then Bent will disappear from the lineup, almost certainly never to be seen again on the network. Insiders have insisted to Vulture that this rom-com about mismatched lovers Peet and David Walton was actually highly regarded by Peacock brass, and yet NBC quickly rushed Bent on and off the air, burning through the show two episodes at a time in a crappy Wednesday time slot with hardly any promotion, making its low ratings a self-fulfilling prophecy. Why would a network essentially toss away a show it paid for? And why not postpone it until summer when there is less competition and it stood more of a chance? Believe it or not, there actually are three unavoidable reasons for why NBC had no other options that are grounded in TV economics and scheduling. Class is in session!
First, the view from inside the Peacock: An NBC source tells Vulture that the decision to double-pump the largely well-reviewed show was not designed to burn it off more quickly. Instead, the programming theory was viewers might get sucked in if they were able to see bigger chunks of the show at once, with the relationship between Peet and Walton evolving more quickly. (TV Guide magazine's Matt Roush backed up that theory by labeling Bent the "sort of funky offbeat comedy that grows on you, so watching more than one episode at a sitting turns out to be a good thing.") Okay, assuming that was the plan, Bent still seemed set up to fail, considering that it was slotted on Wednesdays in the middle of spring with virtually no promo budget, opposite American Idol and ABC's similarly hip Happy Endings. And the disastrous ratings have borne that out.

This leads to some reasonable questions about the way NBC ultimately treated the show it says it loved. Such as:

Why not save it for the summer, when there's less competition? Had the Peacock chosen to do this, it would have had to extend its "option" on the show's cast and producers beyond the usual May 31 expiration date, keeping them legally bound to Bent until after it wrapped its theoretical summer run in July or August. This could have easily been a seven-figure expenditure and is something networks rarely do, usually only when big talent is involved or when a network is doing very well in the ratings and can afford to take a gamble. (CBS did just this a few years back with the underrated summer series Swingtown.) The fact that NBC didn't decide to air Bent in the summer actually bolsters the argument that the network once possessed at least some hope the show could find a pulse. Had it simply delayed Bent until summer without paying the extra coin to extend its hold, NBC would've been saying, "Yeah, we're burning this off." (Also, for any pilot-season nerds wondering: Technically, nobody from Bent can sign up for any 2012–13 pilots until June 1 without technically risking NBC calling them back to the show.) Given how the show has done, however, we're pretty sure the Peacock won't hold them to their deals.

Wednesdays are so competitive. Why not try Bent out during NBC's Thursday comedy block? Yes, it would have resulted in more media buzz and exposed Bent to NBC's core comedy audience. Unfortunately, the night is already overcrowded: Both Community and 30 Rock are in no-repeat mode through May, while The Office is an anchor that doesn't move. An early exit for Up All Night might have worked, but that would've meant putting an unproven newbie in front of new drama Awake, which is already struggling even with a semi-established lead-in.

There were barely any ads for Bent. Why not actually tell people this show is on? More marketing money is usually a good thing and is valuable in building awareness of a new show, particularly one without any huge stars attached. (Peet is a known quantity, but doesn't get that "Oh my God, _____ is returning to TV!" buzz … except with Studio 60 fans who are crossing their fingers that the show will involve another love affair that is indistinguishable from crazy stalking.) But when a network is as far down in the dumps as NBC is, it doesn't have unlimited resources. Peacock chief Bob Greenblatt already had a full plate of priorities this winter and spring: relaunching The Voice, rolling out Smash and Awake, testing out new reality concept Fashion Star. He had to make choices, and as much as he might have liked Bent, he doesn't have a bottomless pit of money with which to promote shows. It's also possible that while Greenblatt liked Bent, he may have liked another midseason comedy more: Best Friends Forever, the female buddy starring Jessica St. Clair and Lennon Parham that premieres tonight. While BFF is not getting the Smash treatment, NBC has taken out ads for the show and put it behind its new Betty White "comedy" Off Their Rockers, which did decently when it was previewed back in January.  

And so, despite love from NBC execs and a good number of critics, Bent will air its final two episodes on NBC tonight, likely joining the long list of decent shows that never got past their first season. About the only way the show will survive is if an outlet like Netflix suddenly decides it wants to pick up the show. Okay, who wants to start that rumor?