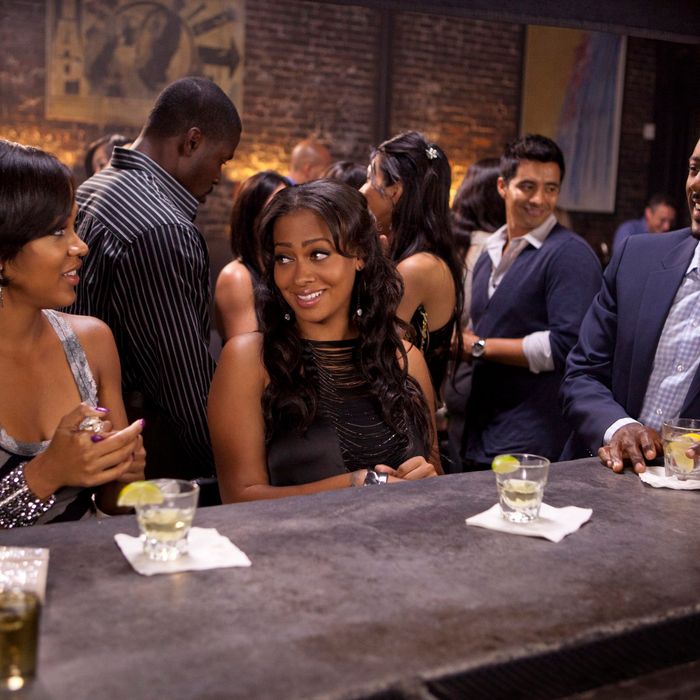 Photo: Alan Markfield/Screen Gems
This Weekend's Winners: Screen Gems' Think Like a Man (No. 1 with over $33 million) showed that a well-made, well-marketed romantic comedy attracts only one color: green. Meanwhile, after spending the last four weeks strapped into the uppermost boughs of the box-office tree, The Hunger Games slipped to No. 4 (with $14.5 million). Yet it has crested $350 million, and that's just here in Panem alone! Globally, it's now one of the top twenty highest-grossing films of all time.
This Weekend's Losers: Relativity Media's Mirror Mirror dropped another 40 percenr to finish tenth this weekend, with a cumulative gross of just $55 million to date.
Also fading fast: Fox's apropos-of-nothing reintroduction of The Three Stooges and Lionsgate's Cabin in the Woods, both of which lost nearly half their opening weekend audiences and posted anemic per theater averages.
Finally, box office overall ends the weekend on a down note, dipping 5 percent when compared with the same time last year. Then again, this time last year was Easter weekend, when Madea's Big Happy Family opened to a robust $25 million.
How It All Went Down: Regular readers of Vulture knew that Think Like a Man was going to be big — the question was only: How big? Now we know.
It's hard to overstate the enormity of the TLAM victory this past weekend. For starters, it bested The Hunger Games, a white-hot franchise that, despite being in almost twice as many theaters, grossed only than half as much. Let me repeat that: Hunger Games? In some 3,750 theaters. Think Like a Man? A little more than 2,000 theaters.
What's that you say? But Hunger Games is in its fifth weekend? True. But TLAM also pushed aside the adaptation of the best-selling Nicholas Sparks romance The Lucky One, which, likewise, had it outgunned: TLAM was in 33 percent fewer theaters but grossed a third more than the Sparks adaptation. Now who's the lucky one?
Just before Friday night Los Angeles time, Sony execs were already ebullient, as it appeared that TLAM was likely to finish the night with $12 million, meaning that, at the minimum, its opening weekend would be a whopping of $28 million.
But there was even more good news: The film was getting raves from audience exit polls conducted by Cinemascore across all gender and age lines: an A+ from males, and an A from females; an A+ from the under 25 crowd, and an A from the over 25 crowd.
By Saturday morning, the fantastic word of mouth was showing up in advance sale ticketing data: Saturday night's grosses looked like they would finish ahead of Friday's by more than $1.1 million, or almost 10 percent. The TLAM weekend haul would be more like $30 million and a defeat of Hunger Games was assured.
Still, as far as a crossover success, Think Like a Man wound up with mixed results when it came to gender, insofar as it had hoped to appeal as much to men as to women. In the end, slightly less than two thirds of the TLAM audience was female.
Finally, the seemingly modest $10 million opening for DisneyNature's Chimpanzee is actually the best opening yet for the specialty label. More, its stellar reviews mean that this box-office ape has great (if hairy) legs.