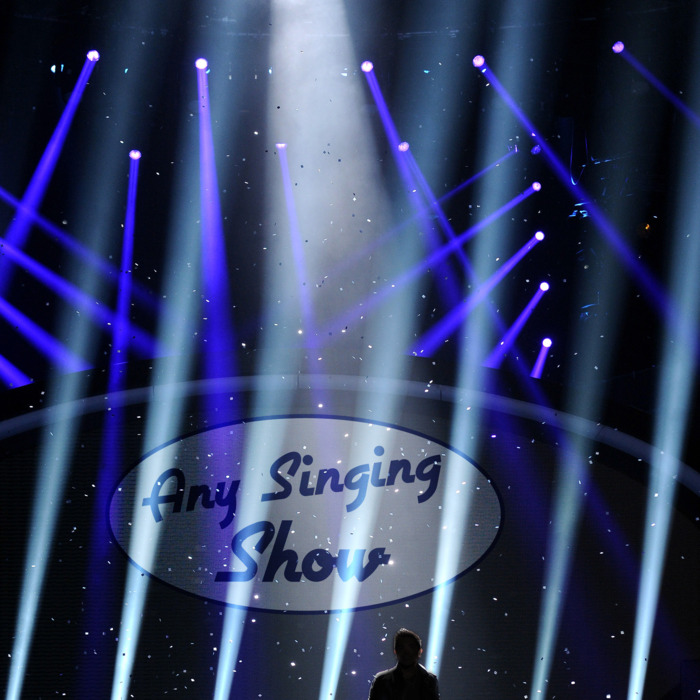 Season 10 contestant Stefano performs onstage at FOX's American Idol Season 11 Top 6 To 5 Elimination Show on April 26, 2012 in Hollywood, California.
Photo: American Idol/FOX/Getty Images
ABC's tepid Duets launched last week, bringing the number of music-based reality contest shows to an even infinity. Duets is trying to join Idol, The Voice, and The X Factor in the pop mainstream, but that's the wrong tactic: think smaller and better defined! We don't want another broad-appeal singing show — we want (well, sort of) limited-appeal passion projects with really narrow fields of contestants and oddly specific musical genres. Every cable network could have their own ultralimited singing show. These are our fond suggestions, many of which we would legitimately watch:
Part of Your World, the Disney Channel
Contestants sing their favorite songs from Disney movies, and the winner gets a gig performing at Disney World.
A Little Night Music, Bravo
Contestants sing show tunes, and the winner gets a spinoff Bravo reality series about trying to make it on Broadway.
Baba O'Reilly, ABC Family
Everyone will call it "Teenage Wasteland" anyway! High school singer-songwriters pour their hearts out, and the winner gets mentioned on Pretty Little Liars.
The Oldies, the History Channel
Public-domain enthusiasts sing songs so historical no one owns the copyright anymore. Hope you like "Lavender's Blue."
The Smothers Others, IFC
It's time for a musical-comedy resurgence. Silly songs, political satire, pop parodies — everything's game. Winners get a Nerdist podcast.
TRHell, MTV
Wannabe music-video stars compete in a series of grueling physical challenges to earn the top prize of singing some generic hook but getting a sweet-ass video out of the ordeal.
Mama Said Knock You Out, TLC
Mothers and fathers from around the nation show off their pacifying skills in this lullaby-singing contest. Winners get $50,000 from Pampers.
Piano Man, AMC
Troubled middle-aged men warble about their lost dreams, and the winner gets a fancy car.
Someone Like You, BBC America
Unconventional British singers channel their retro styles into global fame.
Tomorrow, Tomorrow, OWN
Oprah scours the nation for singers with the saddest, most unbelievably tragic sob stories, brings them all to a luxurious house for group therapy, and then they all release a joint album about healing oneself through the power of sisterhood. No winners, no losers, just the calming bliss of living your best life.