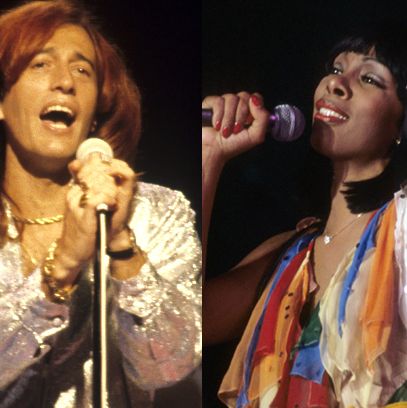 Over the past week, cancer claimed two artists — first Donna Summer, then the Bee Gees' Robin Gibb — who, between the two of them and their collaborators, soundtracked a slightly outlandish percentage of late-seventies American life. They did it with disco, obviously: Both acts sold millions upon millions of disco records, becoming the mainstream faces of the genre. And there's something about their very mainstream-ness that makes digging through their discographies feel like a good corrective to the way disco's been digested and memorialized in the years since. Summer's catalogue feels like a reminder of everything that was at stake during the disco era: It contains not only multitudes of yearnings (for glamour, love, strength, sexual freedom), but also a poignant sense of what happens when it's a fight to let those longings coexist. And speaking of longing: What are all those beloved Bee Gees dance hits if not sentimental?
Start with Summer. She did plenty of singing before she became a star, in churches, blues acts, and German musical-theater productions. By the time she teamed up with producers Giorgio Moroder and Pete Bellotte in the mid-seventies, she had the voice for nearly anything. That trio spent the rest of the decade making an incredible volume of music, in an incredible variety of styles, in an incredibly short time. Two concept records every year, one double album each year; luxurious disco, angelic seductions, musical-theater pastiche, albums about prostitution, albums inspired by four-volume Anthony Powell novels — disco, in this stuff, isn't so much a sound as it is a container into which every last idea in the world could be poured. And nearly all this stuff was huge. Summer scored eight Top 10 hits between the spring of '78 and 1980. She had three consecutive double albums hit number one. Huge.
In addition to a lot of fine disco, Summer's early catalogue contains some truly momentous contributions to pop music. A lot of them have to do with Moroder's synthesizers and the all-electronic backing tracks the team created — material that sits right beside Kraftwerk's in the Hall of Fame of More or Less Inventing Electronic Music As We Think of It. But they also have to do with Summer herself. On the epochal "I Feel Love," she becomes one of the first humans to actually vocalize the rippling, sensual pleasure that's inherent in all those electronic washes and pulses, from Kraftwerk to Moroder to the radio today. That single's one of the first great marriages of a black American vocal tradition and a European synth-disco vanguard — the sound of which has been the very definition of "pop music" ever since.
The Gibb brothers — Robin, Barry, and Maurice — hailed from a decade back, in the late sixties, when they served as a sentimental pop alternative to British rock groups, a beat combo with the tender sound of a folk act. Over the years, their songs grew more and more plush and plaintive, a sound well-served by Robin's voice (that's the tremulous, lonely sound you hear on that sad-clown favorite "I Started a Joke"); in their leaner years they drifted through AM-gold styles and eventually into soft-focus soul harmonies, many of them goopily gorgeous (e.g., "Charade"). It's when they matched that sound to Latin and disco rhythms that they became the commercial powerhouse everyone remembers. And no wonder: They'd found a fashionable beating heart for music that remained immaculately smooth and accessible.
Personally, the mainstream pop culture of the seventies never seemed entirely comprehensible until I started thinking of it as something like a bubble economy, full of irrational exuberance and an earnest, often-naïve sense that some grand new door had been opened. A bubble, specifically, in terms of people's belief in a self (not just a set of socially dictated roles and responsibilities, but a malleable, improvable self, one you could purchase books about), and in terms of sensuality and sophistication (a decade of luxurious hair, and the mass-marketing of the waterbed, and glitter and silk and sun-dappled fields of wheat, and sighing, sensualist hit songs like "Lovin' You"), and boy, oh boy, oh boy, in terms of sex.
That's a tale in which Donna Summer would star, playing — as Ebony put it in 1977 — the "Queen of Love, Symbol of Eros, the Greatest Lay in the World." Yes, she'd done plenty of recording before she teamed up with Moroder and Bellotte. But the track that made her a star was the one on which she writhed, moaned, and simulated orgasms: 1975's steam bath "Love to Love You Baby." It was given a seventeen-minute mix to fill up the whole front side of its LP, an idea that came from Neil Bogart, the head of Casablanca Records — because, per one old issue of Spin, he played the track for "some party guests," who wished it would go on forever. Party guests? No, Bellotte has been much more specific about that: "Bogart was having an orgy at his house … "
… and then two years later, Summer was telling Ebony that "people who have active sex lives usually don't have a lot of breakdowns and other mental problems," which is surely the touchingly optimistic late-seventies equivalent of a late-nineties tech-company CEO saying companies with foosball tables in the office usually don't have problems turning a profit.
Not that disco's relationship with sex is anything less than self-evident. But over the years, the nation's memory of it seems to have turned it all in the direction of lovable fun: sex, glitter, empowerment anthems, good-time funk favorites, underground synth odysseys. How about the sheer idealistic poignancy of it — the confusion, tenderness, and risk surrounding that whole self/sex/sensuality bubble, and the image of the disco queen not as a sassy belter, but a silk-draped Aphrodite? Search through Summer's seventies catalogue. Yes, there are bold expressions of desire, feigned orgasms, breathy seductions, regal disco-diva moments. There are also the starry-eyed visions of romance, the sentimentality and innocent traditionalism, that the late-seventies bubble still had the idealism and guts to think of as contiguous with sexual freedom, and possibly even orgies. There's a new role being worked out: that of a sophisticated adventurer in a new continent of self/sex/sensuality, one that encompasses both come-ons like "Hot Stuff" and sighing ballads about candlelit bistros and California wine. Summer's voice, and her ability to play different roles with it, lets her plumb every last corner of this bubble, from stagey pomp ("I Remember Yesterday") to angelic pining ("Wasted") to bravehearted devotion ("Our Love") to baroque heartbreak ("McArthur Park"). It's hard not to hear all those styles as doing exactly what the moment called for — trying to sort out the billion possibilities of uncharted sexual territory — and territory of the self — and sort out something about which impulses were compatible and which ones led to heartbreak.
Which is critical, because without it, disco's success at capturing glamour and sex as an aesthetic can be frightening — in approximately the same way it's frightening to watch the world do similar things to weddings, turning them into sites of glittery yearning where one's sense of self and love turns strangely prop-filled and expensive. This seems like one of the more-flattering reasons why rock fans treated disco with so much hostility: It's a puritan's gut instinct that there's something dangerous about a sex-and-glamour bubble floating too exuberantly beyond the realm of reality, becoming too stylized and commercial. And of course straight, white, male rock fans were the ones who'd feel that fear and loathing most strongly: They'd have been the listeners with the least to gain from actively reimagining love, sex, and glamour. Disco claimed the audience with the most critical stake in reframing those things — gay, black, female, and Latino listeners chief among them.
Meanwhile, the Bee Gees could approach the disco sound as straightforward sonic glamour — the same candlelit bistros and California wine as in Summer's "Whispering Waves," the same notions of sophistication and sensual pleasure, made into sparkling studio creations you can simply revel and luxuriate in.
That bubble of sensuality burst, of course. It certainly burst for Summer personally. She had never been comfortable playing the world-famous Queen of Sex; she'd suffered from anxiety and depression; she'd attempted suicide. (You can hear that anxiety, I think, in Once Upon a Time, her Cinderella-story concept record.) She became a born-again Christian. She kept recording, making great singles well into the eighties; how hard could it be for her to slip into synth-pop, or freestyle, outgrowths of a whole genre of pop she'd helped create? She wouldn't perform "Love to Love You Baby" anymore, though, and her most memorable hit of the period was "She Works Hard for the Money" — a song not of sensual exploration of the self, but of rent-paying materialism. After a long history of adorning her album with glamour shots and boudoir photography, that LP had Summer dressed as a waitress. While her early career was dogged by rumors that she'd been born a man (the same tale that'd be flung at Lady Gaga three decades later), her later career was dogged by reports that she'd said AIDS was god's punishment for homosexuality. (She denied it, and once sued this magazine over the issue.) This, after all, was precisely the narrative of the seventies sexual bubble that eventually became enshrined in popular culture, right down to the ending of Forrest Gump­ — that all the licentiousness and personal freedom of the seventies got their comeuppance in a killer disease and an epic divorce rate.
That's one handy way of claiming that all the questions of the past had been conclusively answered, all the chaotic impulses resolved. But something about listening through Summer's prodigious, idea-stuffed catalogue makes those questions seem alive and important again, as they should be. And listening to Robin Gibb's voice quavering through some of the Bee Gees' gargantuan hits is a good reminder of the soft-focus idealism and sentimental yearning that surrounded them.