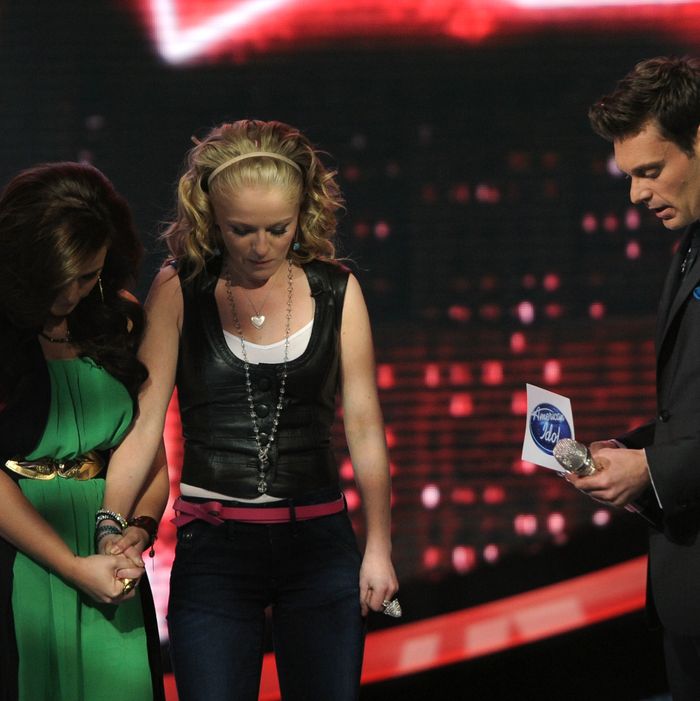 Photo: Michael Becker/FOX
Tonight, we reveal "your coveted final four!" And Ryan claims that the top five is "hungrier than ever for that kind of success." If hunger involves a group of people either smirking vaguely or staring blank-eyed into space, then yes, we suppose the top five does want it.
First, Joshua is called forth. Jimmy calls "To Love Somebody" the performance of the year, adding that Stevie was impressed. How big a deal is that? "Imagine Randy Jackson winning the Kentucky Derby as a jockey. That's what a big deal that is." Randy loves this joke, because it has his name in it. Jimmy goes on: "We here at Interscope are going to do everything we can to not drop this ball." Now, if these kids are already signed, what are we still doing here for three hours a week? Joshua is safe.
This week's Ford Music Video is "a fairy tale," which means everyone is dressed up like characters from a version of Alice in Wonderland in which all the characters have somewhere else to be. There's no Phillip, yet again; when he wins his first Grammy, he must thank his urethral stent.
And then it's the first of our performances by Coldplay: "Paradise," which is a song that only serves to remind me how much I miss "Taradise." Fun fact: Did you know Chris Martin is married to the editrix of GOOP?
Back to results: Hollie and Phillip are on the chopping block. Jimmy confirms that it was a critical week for Hollie, and while "River Deep, Mountain High" was great, "Bleeding Love" was merely okay. If that's true, I tend to blame the song itself, which is a snoozeburger. Now, I'm hoping Jimmy — or someone, anyone — is going to lay into Phillip, who is still adorable but is starting to wear out his welcome, and who I suspect might finally be on thin ice. And it sort of a little bit happens: Jimmy gives him credit for performing while he's as sick as he is (by the way: Why is Jimmytime the only time we address this?), but calls his two performances "bland." Still, even he admits there's no way Phil will be in the bottom two. Ryan notices that Phillip is chewing gum, asks him to put it on one of his index cards, and then attempts to flick the gum out into the audience. Hey, listen: I know I only do this on cable, so I'm almost embarrassed to ask, but: How was that supposed to go? Like, the absolute pie-in-the-sky best-case scenario if you get that wad of gum launched is that it won't land in a child's hair. But whatever: The gum sticks to the card. It all works out fine, just as everything does in Phillip's life (except his urethra), and so does the voting: Hollie's in the bottom two.
Carrie Underwood makes a triumphant return to the Idol stage with her new single "Blown Away," which is a song about having your wind machine turned up so high you almost show America your uterus. For real: One false move or underperforming strip of double-stick, and Janet Jackson would owe her a muffin basket.
Skylar and Jessica are the last two to be Jimmied. Mr. Iovine thinks Skylar's got the eye of the tiger, but that she didn't quite interpret last night's songs as well as she could have. She needed a performance that crushed the whole night, since she hasn't night-crushed in a long while. I don't disagree, but maybe if we give these kids one chance instead of three, the individual stakes might raise themselves? As for Jessica, he thinks her "You Are So Beautiful" was perfect (which is incorrect) and that "Proud Mary" was a travesty, because … the dress was wrong? He's right, but for the wrong reasons; he thinks the clothes were too racy, when the truth is that they just inhibited her movement. Jennifer underlines Jimmy's concern: "That dress might have been too hard to swallow for people in mid-America." Jennifer, have you seen Toddlers & Tiaras? We Midwesterners can skank up our children as well as anyone. 
Either way, Jessica is safe, which makes our bottom two Skylar and Hollie. And they're friends! I have seen it with my own eyes!
More Coldplay. This time it's "Every Teardrop Is A Waterfall," which sounds like the winner of a Coldplay Parody Songwriting contest. Man, these guys are like a mediocre Broadway musical; I roll my eyes for the first half and I'll be damned if I'm not fully onboard and misty-eyed by the end. (Would love to have heard "Charlie Brown," though.)
Though this performance was clearly shot sometime in 2009, Ryan throws to commercial with Hollie and Skylar as though they're all just a few feet away from the band. Some PA even sprinkles Day-Glo confetti over them. Skylar looks legitimately despondent. It's kind of harshing my Coldplaymellow. 
But I must be strong, for it is decision time. Randy says it's the best top five they've ever had, which is the first sensible thing he's said all season. These really are some incredible kids, and they really do deserve a better show. And …
SKYLAR IS GOING HOME! Or: directly to Nashville to record an album and become a country music superstar. Because here's the deal: Skylar embodies the Reba/Jennifer Nettles Goofy Spunky Country Gal category, which doesn't currently have a young-adult representative. She's got spirit, yes she does.
She's got spirit; how about the other four? During Skylar's final song, the rest of the finalists stand awkwardly near the couch, hands in pockets. As much credit as Jimmy gives him for sticking it out when he's sick, maybe Phillip ought to take a hike. He's the clear front-runner here, he needs this leg-up less than anyone who's ever been on this show, and his drowsy demeanor is starting to affect the whole gang. But he won't; Cheng Guangcheng has an easier situation to wriggle out of.
This show just got a lot less exciting, but I can assure you it will continue to be just as long.