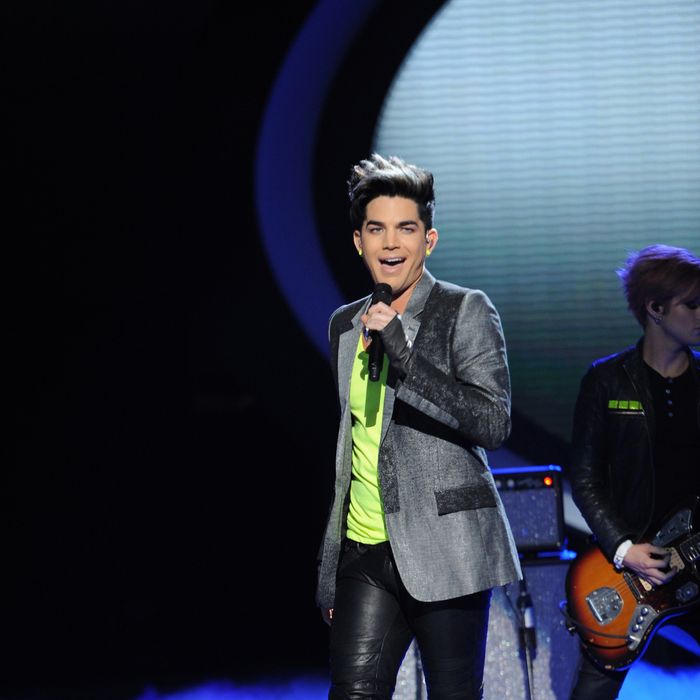 Photo: Michael Becker/FOX
It's the last results night before the finale! And the only questions left in American Idol are who will lose to Phillip next week, and exactly how will the producers waste your time. Generally they pad this hour out with the homecoming footage, but since they exhausted most of that last night, I must admit I'm genuinely curious as to what will be making me restless and peevish for the next hour. I do know it will all be branded, and none of us will get the cut that we deserve for watching.
For the third-to-last time, let's meet our judges. Jennifer looks lovely, because she is incapable of anything else. Steven resembles a real-estate agent whose photo you'd see on a bench ad in Topanga Canyon, somebody named Nita or Patti or Thekla. Randy looks like he ate the Cars.
And the top three are in black and white for their group number, Earth Wind & Fire's version of the Beatles' "Got to Get You Into My Life." Phillip is starting to get less painfully uncomfortable, Joshua is getting a tiny bit flirty, and Jessica is in Run City USA and never wants to leave. As these things go, it's not that bad.
Thank God what comes next is the most pointless Ford Music Video yet. It's Joshua and Jessica (and no Phillip again, and again it goes unaddressed) in some kind of Keystone Kops silent film, but also they are packing a trunk in the present day, in color. What do these two scenes have to do with one another? Why are Keystone Kops lip-synching a song I've never heard before? Nobody here is even trying anymore. Eduardo Saverin is helping Facebook's public image more than these music videos are helping Ford's.
Joshua is up first for the Iovine Iovaluations. Jimmy thinks the judges were overly generous to his "I'd Rather Go Blind," that "Imagine" was too busy and tricksy, and that "No More Drama" was a poor choice because it lacks melody. He adds that Joshua is "the most exciting performer we have on the show," which is both faint praise and wrong.
And then there's a massive time-suck where all the animated characters from the new Ice Age movie try to get tickets to the finale, and then abruptly the top four (?) are in a recording studio rerecording a song from the soundtrack none of us have heard before. It goes on forever. I wish they'd just put an Ice Age logo in the corner of the screen and have Ryan slowly count to a thousand; I'd at least respect the honesty.
Along comes Lisa Marie Presley, backed by five versions of Tom Petty's Mad Hatter from the "Don't Come Around Here No More" video. She is lip-synching, and the stage is dressed like the Platoon ride at Disneyland. Overall, it's just the kind of sub–Shawn Colvin adult album alternative that sets the kids' hearts on fire. Great booking.
Jessica is up for review next. Jimmy doesn't think she had a big enough moment with "My All," and that her "I Don't Want to Miss a Thing" lacked magic. His own choice of "I'll Be There" required her to sing like both Michael and Jermaine, which he should have caught before assigning it to her. And he's right; even Mariah had Trey Lorenz for the Jermaine parts. Still, he's insightful, knowledgeable and self-effacing; why can't we have him at the judges' table? Why are they so confident you'll sit through endless hours of lazy branded segments, but terrified you'll change the channel if a guy who looks like your dad says something intelligent?
Adam Lambert comes by in Day-Glo yellow nails and goth-Liza hair to perform his new single "Never Close Our Eyes," which is totally Bella Swan's favorite song. It's one of those ponderous, swooping productions that makes a magical night with your soul mate sound exhausting. I like him, I like that he's the first openly gay person to have a No. 1 album, I wish I liked his material more. But I like him! 
Last but undeniably the winner of this whole show, Phillip. Jimmy says "Beggin'" was a great performance, "Disease" was a risky experiment that didn't work (the first time in history anyone has called Matchbox 20 "risky"), and that he showed the crying kid from the homecoming video and won the night with "We've Got Tonight." I agree! This emotional, vulnerable character is who we've needed to see all along; I wish these insights would come right after the performances and before the voting, so that they might carry some weight and help guide these talented kids' choices. But whatever; Jimmy's absolutely correct when he says that Phillip and I should be making out all the time, starting now.
And then it's time for the very short business that we've spent this whole hour building up to. Except not really; the judges just gas on about the gravity of the situation and we go to commercials. This show hates you. Back from break, we find out the first person competing in the finale: JESSICA! Joshua hugs her with a fixed smile, surely realizing his goose is cooked. And indeed it is. Good-bye, Joshua.
The farewell montage is heavy on Fun Backstage Joshua, and his final performance of "It's a Man's World" is chock-full of what we've been missing: He winks, he touches audience members' hands, he connects. Someone should have told him to do more of this.
The coronation of Cute White Guitar Boy No. 6 happens next week. The producers have got to be kicking themselves for winding up in this situation again, but they have only themselves to blame this time around; this was the most talented top ten I've ever seen on this show, and the lack of guidance they've gotten from this glittery, feckless group of judges counts as malpractice. I guess if there's any consolation for poor old Nigel Lythgoe and Cecile Frot-Coutaz, it's that they'll make more money in the next five minutes than we will in our whole lives.