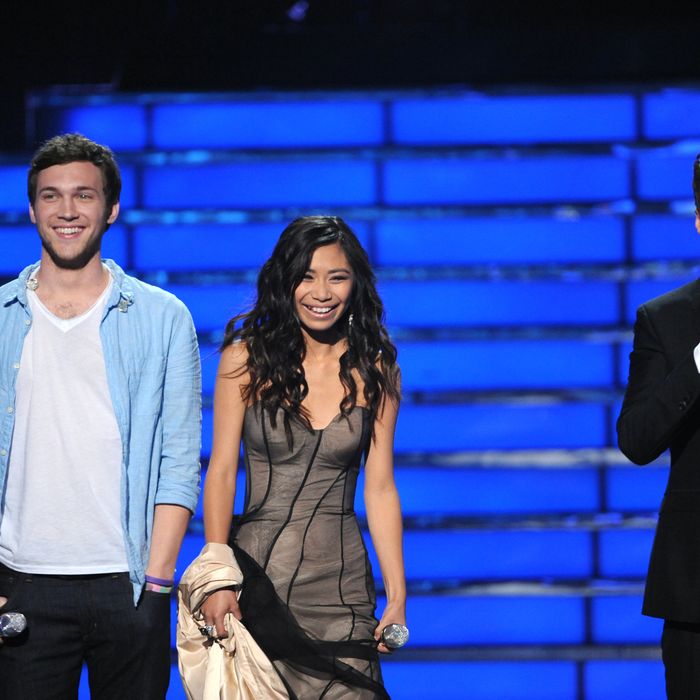 Photo: Michael Becker/FOX
Part one of the season eleven of American Idol finale begins in its usual ponderous way: a quill pen writing our finalists' stories on parchment, as each one says: "I can't let this opportunity slip through my fingers." This would be more effective if every single show this season hadn't begun with such seriousness. American Idol is the show that cried importance. 
But tonight does have the potential to be interesting, and the thrills start right away. They're at the Nokia Theater at L.A. Live, and the stage is equipped with steeper-than-usual stairs that absolutely everyone looks like they're afraid to trip down. Listen: Tonight's outcome is a foregone conclusion, can you blame Nigel Lythgoe for adding a last-minute Wipeout element?
Ryan's pre-performance interview puts the finalists' differences into sharp focus: Jessica gives a well-rehearsed soundbite about her journey; Phillip speaks in tongues and stares at the ground and the audience goes nuts. It must stink going up against this guy.
Tonight's show will happen in three rounds! Simon Fuller will choose a song, the contestants will reprise their favorite performance of the season, and then Jessica and Phillip will perform their potential singles. What song will join the pantheon alongside "Do I Make You Proud" and "I Love You This Big"? Wait and see.
Simon Fuller has chosen Whitney Houston's "I Have Nothing" for Jessica. Eh. It's a song that's overplayed, particularly on shows like these, plus it can't help but be a countdown to the big modulation at the end. Listen, Fuller: It's the finals, we're already going to be here. There are other songs. Whatever — Jessica throws in a HUH and an "IdonwannahaftaGO-ahh," as if to absorb the recently departed Joshua's powers. It is pretty flawless overall, but nothing really jumps out. It's Jessica in a nutshell.
Phillip gets "Stand by Me," because Simon Fuller has no imagination. It's a pretty plodding arrangement, with Phillip going back to his regular Dave Matthews affect and narrow vocal range. Whatever ground he gained with "We've Got Tonight" last week, he has retreated. And it won't matter.
We hear from the judges at the end of each round, and they say nothing. They give round one to Jessica, but Jennifer offers the insight that this show is about voting for who you like better. Duly noted!
And then we're on to the performance by Jason DeRulo with a song called "Undefeated" that YOU AT HOME helped to write. Apparently YOU AT HOME have a house full of Successories posters, because that's what these lyrics sound like: "Get up and dance, this might be your last chance." "I'm gonna live today like it's my last one." "A penny saved is a penny earned." "A stitch in time saves that booty." Great job, YOU AT HOME.
Round two is contestants' choice, so which mawkish ballad will Jessica settle on? She revisits "The Prayer," a smart play for the overwhelming Christian majority in America who likes to think they're being discriminated against. It sounds great, but again, it doesn't really solve the case of Jessica's missing personality.
Phillip goes for Billy Joel's "Movin' Out," and it highlights how little he's developed this season. It's pretty much note-for-note the way he did it the last time, though now there's a sassy blonde oboist onstage. There are so few outlets for sassy blonde oboists. This round is a snooze and a half all around. We've seen all of this.
Steven gets to speak first in round two evaluations. Regarding Phillip: "You know how the saying goes: You don't have to be a good egg, just hatch or go bad." I actually don't know how that saying goes. At all. Was it in the lyrics of "Undefeated"? He continues "Phillip hatched a little, but Jessica took round two." Jennifer contradicts him and the crowd goes deafeningly wild. He is so going to win.
And then we get to the original songs. Hoo boy.
Jessica's potential single is "Change Nothing." It's a pretty standard pop ballad about a girl with a misunderstood boyfriend, and ultimately it just never takes off. Plus, she's sitting on a piano through the entire thing like a Muppet, when she really should be trying to work the crowd. From the inaction suggested by the title to the soullessness of the arrangement to the lyrics praising the bad boy when in real life she is a good girl trying to defeat a bad boy (you know, kind of), it is Clunk City, USA. And it makes me wonder who makes these song choices. My assumption was that the producers made the call, in which case they'd want the judges to at least praise the song itself, but they unanimously give "Change Nothing" the gas face. Jessica says she initially wanted to do something more soulful, but that this song showed off her voice more. Jennifer counters that as an artist, you have to be able to say NO when a song doesn't feel like you. Jessica agrees, and then basically the whole Nokia Theater says, "Yeah, that song was a bummer." 
Phillip's song is called "Home," and you guys? I love it. Now, listen: It is a shameless rip of Mumford & Sons. It calls to mind that Edward Sharpe song that is also called "Home." It sounds exactly like what you'd hear on an ad for 4G service. It is a craven calculation, but can I say something about craven calculations? When they work, they WORK. And when the drumline walks out onstage (which is another thing Mumford & Sons did first), it hits a groove and becomes the first of these Idol winner songs I can actually imagine becoming a hit song. It is perfect for him: It's right in his range, the arrangement updates his shtick to this decade, and a nation of pubescent girls imagines him singing its lyric directly to them. Game over.
The judges agree. Jennifer says the song sounds like nothing else on the radio, so now we know Jennifer doesn't own a radio. But I have a laptop, and I immediately do something I've never done before in my life: I download an American Idol winner's single.
So there it is. After the longest, draggiest, most predictable season ever, American Idol has one surprise in it after all: Phillip Phillips ends up deserving to win.