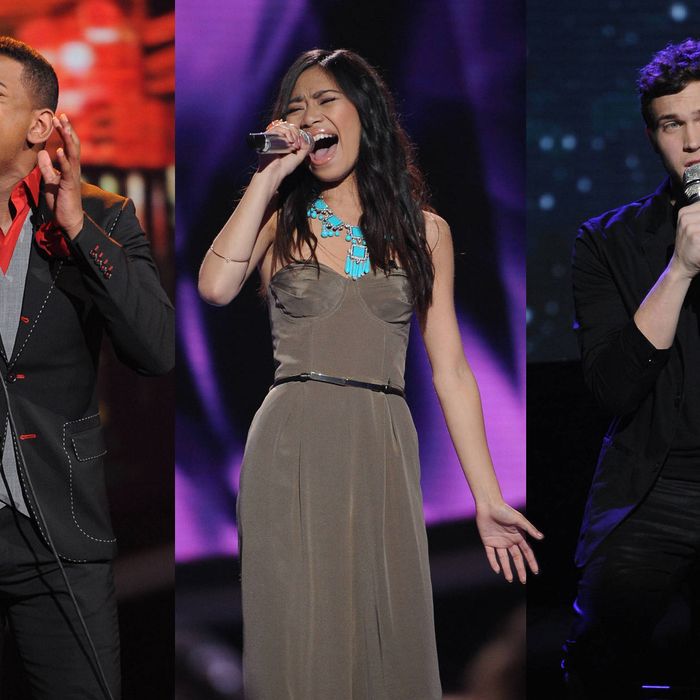 Photo: Michael Becker/FOX
The show opens with a huge crane shot of the audience in the Idoldome, and I'm immediately struck by the preponderance of signs for Ryan. Here's how you can tell that your top three isn't making much of an emotional impact: Most of the people who have taken the time to make a sign have done so for Ryan Seacrest. Tonight, the top three will be singing three songs each: one chosen by the judges, one by themselves, and one by Jimmy Iovine. And here's how you can tell that you're stretching a show: The act of getting the judges to their seats, getting the top three to center stage, and conveying the above show information takes up the entire first act. I am holding up a homemade sign that says "OH KNOCK IT OFF."
I'll take this singer by singer, because I value your time:
Joshua Ledet
• His Judges' Choice song is Etta James's "I'd Rather Go Blind," which is a predictable choice, as it's pretty much 100 percent run. It's a decent fit for him, even if the arrangement does cast him further into the old soul singer category that's preventing him from seeming more contemporary. Also — and I never imagined a future in which I'd be saying these words, but — the definitive singing-competition-show version of this song was done on The X Factor by adorable child Rachel Crow. He's connecting to the audience more than he has previously, but only because it would not be possible for him to connect with the audience less than he has previously.
• This newfound confidence might be thanks to his trip home, where Fox sent him on a private jet, which is kind of a hilariously shitty thing to do to a nervous flyer. Joshua's hometown straight up loses their minds over him, crying, jumping up and down, putting actual babies up in his mouth for kissing. It's weird and heartwarming in equal measure, but we do get a moment that sums up Joshua perfectly: In front of a sell-out crowd in his hometown arena, he asks the crowd to "say YEAH" over and over, and every time they obey him, he looks away. This kid is afraid of his audience. You'd think a judge might hone in on this, as it's not an insignificant thing.
• Joshua's choice for himself is John Lennon's "Imagine," which is the opposite of a song that needs a ton of screeching and histrionics to get its point across. The one thing it does need is the one thing Joshua cannot do, which is not be terrified of a live audience.
• Jimmy chooses Mary J. Blige's "No More Drama" for him, which is a nice, contemporary choice that he kind of beats the shit out of. Quick question: Does the original version contain the lyric: "Demons, get up out my face"? Because either Joshua or Mary J. is getting a thank-you note from me. Joshua tears off his sequined blazer halfway through, and Randy says, "That rippin' that jacket off? That's what it's all about," and in the moment, you believe that Randy really thinks that's what it's really all about.
• The judges love everything he does.
Hey! The other top ten finishers are in the audience! Erika van Pelt has kept her sassy short do, but has bleached it back to blonde, and the result is kind of an Angela's Mom on My So-Called Life effect. Colton is working a Duckie look. These references have been brought to you by middle age.
Jessica Sanchez
• The judges assign her "My All" by Mariah Carey, which is not a song I immediately remember until more than halfway through; it's not one of her engaging early songs (like "Vanishing," which would have been perfect) nor one of her R. Kelly–ish late ones (like "We Belong Together," which would have at least been interesting). No, it's one of those snoozers that Mariah threw on her late-nineties albums just in case the Puff Daddy tracks didn't click. It is, therefore, not all that exciting. It's also not a great fit for Jessica, as the verses are too low and the chorus too high; she can't get any power behind her vocals, and power is her thing. Jennifer acknowledges that it's a tough song: "In the middle, I was thinking: Ooh, that's hard!" Which is exactly what you want to be thinking when you're listening to a song.
• She goes back home to Chula Vista on a helicopter, because the producers are hoping that mortal fear will force some personality out of her and Joshua. No such luck. But she is greeted by a massive crowd, a mayor who hopes "she'll be voted America's Idol," and an immediate family that is deeply uncomfortable on-camera.
• Her choice is Aerosmith's "I Don't Want to Miss a Thing," which she performs in some kind of silky Marilyn McCoo on Solid Gold pantsuit. My boyfriend points out that she's dressed like "a flailing cell phone outside a dealership." Her performance of the song is pretty good, but like so many of her choices, the song is so played-out it can't help but sound like a dial tone. Much is made of the fact that she's singing the song right in front of Steven Tyler, but it's much less of a risk when you consider that he loves everything, always. Ryan asks him what it's like "to have the judges critique your own song right in front of you," but the judges aren't critiquing anything ever, and he didn't write that song, so he just makes up a haiku about his balls and goes back to sleep.
• Jimmy's choice for Jessica is the Jackson 5's "I'll Be There," which he's hoping will make her seem youthful while still showing off her vocals, and it does one of those things, and I will give you three guesses which.
Randy Jackson is wearing a pocket-watch as a brooch.
Phillip Phillips
• Judges' Choice is "Beggin'" by Madcon, which seems like a good idea until you realize it's all based on one tiny sample. Why not choose the Four Seasons' original and encourage him to zazz it up a bit? Either way, it ends up being a fun choice; more upbeat and current than we usually get from him, and the tempo forces him to do something that looks suspiciously like work. Refreshing!
• Before we follow Phillip home to Virginia, Ryan shares a screen-grab of a sketchy guy holding a "Phillip, you still owe me $10" sign. America has just met Phillip Phillips's weed dealer. When his plane lands, a huge crowd of fans is stacked like factory-farmed chickens behind a chain-link fence topped with barbed wire, and the next day, at his concert, a bouncer straight bats some teenage Phil-heads out of the way with his meaty paw. Bad optics all around! But at least Phil whips the crowd into a frenzy with Damien Rice's "Volcano." Also, in his parade, he ugly-cries and I want to sweep him up into my arms, which I already wanted to do but this is a better excuse.
• His choice for himself is Matchbox 20's "Disease," which is an okay song that he does an okay job with. The judges agree that it lacked a big moment, but guys: How is he supposed to know what to do when you've had a porn-movie orgasm over every other performance? Is he supposed to read your minds? He is handsome; this does not make him magic. It's the only thing they haven't all loved all season long, and it will not matter even a tiny bit. Because:
• Jimmy has chosen Bob Seger's "We've Got Tonight" for him, and right away you can tell it's a genius choice. He's flanked by a string section, he's got no guitar, he's wearing black (which after a season of pea-green seems like progress), and he's so nervous he can't stop stroking his leg. Also, he makes the bold choice of actually singing the song. Trying to hit all the notes and everything! And it mostly sounds great, but his own nervousness — and the sudden revelation of some of his sweeter, higher notes — plays into the horny panic of the song's lyric and makes it a perfect performance. Something like this probably should have happened weeks ago, and might have set him up for something better at this stage of the game, but as Donald Rumsfeld says, you go with the judges table you have. I know I'm giving Phillip credit for singing notes, but whoo, this performance was really something. Even Shannon Magrane out in the audience fans herself and yells "He is SO CUTE." Out of my way, Magrane.
So there it is. I fear it'll be poor Jessica Sanchez who gets the boot. But if 19 Entertainment isn't planning to swoop her up and enroll her in some kind of Professor Xavier's School for Gifted Singers where she'll train daily in the Pop Star Danger Room, then they have lost their damn minds. Jessica is two years away from being the greatest singer in pop music; too bad she's here now. Now, if you'll excuse us, Ben and I are going to watch "We've Got Tonight" again.