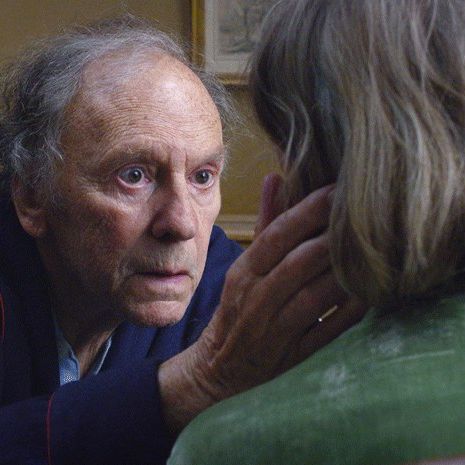 Monday night in the lobby of the Majestic Hotel in Cannes, this reporter spotted an elderly man and, while attempting to speak to him, began to weep. The gentleman was Jean-Louis Trintignant, the star of Austrian auteur Michael Haneke's Amour, and his dignified, devastating portrayal of a husband taking care of his wife (Emmanuelle Riva) as she succumbs to the ravages of old age and dementia has become one of the highlights of the festival. Ask anyone at Cannes what movie they have loved most so far, and nine out of ten times, you'll hear "Amour," often said with a misty eye and hand over the heart.
Like many of Haneke's films, Amour is not an easy movie to watch. The act of dying plays out with excruciating slowness and without sentiment as Trintignant is helpless to do anything but love his wife and care for her, all while their daughter (played by Isabelle Huppert) struggles to understand why her father won't put her mother in a hospital. If tears come while watching it, as they did intermittently for this reporter, they come convulsively, welling up from deep personal pain, rather than from watching something that actively solicits your crying. For me, it brought to mind the deaths of all my grandparents and the dreaded future deaths of my parents, as well as my own eventual decline with age and the question of whether I'll have anyone who loves me as much as Trintignant in the end.

Some we spoke to found it too slow and just wished it would be over already. Others we spoke to simply said, "I can't"; their own experiences with dying loved ones were just too fresh. Still, audiences are moved to talk about the movie in a way that's unique: For perfect strangers to discuss death and mortality while attending a French film festival seems extremely apropos.

When I ran into Trintignant at the Majestic, I had just gotten off the phone with my mother, who was helping me through a tricky situation after my wallet was stolen in Cannes. The actor spoke no English — and I, not enough French — for our conversation to adequately convey what a beautiful job I thought he had done. And yet, somewhere in the middle of our halting exchange, the fresh memories of the movie mixed with the gratitude I was feeling toward my mom (and the unimaginable sadness I will feel when she's no longer around), and I couldn't help but cry. And all this, several days after seeing Amour. Which is simply to say that at this point in the Cannes Film Festival, despite the excellent performances in Rust and Bone or the wily charms of Holy Motors, it is hard to imagine any other movie that could win the Palme d'Or.