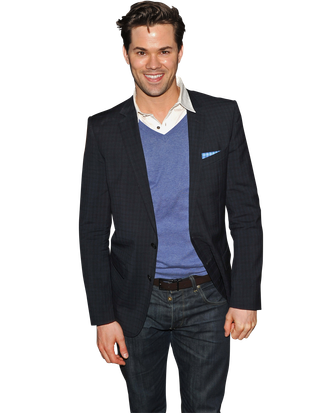 Andrew Rannells.
Photo: Stephen Lovekin/Getty Images
On Girls, Andrew Rannells (best known for his role in Broadway musical The Book of Mormon) plays Hannah's somewhat smug, fresh-out-of-the-closet ex-boyfriend Elijah, who memorably got the last word in when she accused him of giving her HPV ("It was nice to see you. Your dad is gay."). Recently, he delivered a pissy little slap to Marnie's petulant, pink-cheeked face during a Bushwick warehouse party after she told him his voice sounded like "a bag of dying babies." Do we sense a pattern here? We chatted with Rannells about the altercation, whether he thinks Elijah was a jerk for hiding the true nature of his sexuality while dating Hannah, and his role as a gay father-to-be on Ryan Murphy's upcoming NBC comedy The New Normal.
How were you cast?
I was super lucky that Lena [Dunham] and Jenni [Konner] came to the opening night of The Book of Mormon. And then, like, two weeks later they were casting the role of Elijah and they just brought me in for an audition. It's a very different part: the gay ex-boyfriend and the Mormon missionary are not really the same thing.
So, let's talk about the slap in the Bushwick episode. Have you seen it?
Oh dear — I have seen it.
Was it a real slap?
I didn't even make contact with her. My hand was probably a foot away from her face, and she just recoiled. We didn't have to do any sort of stage combat. I'll be curious to see how it plays out, though. What was your reaction to that?


I was a little surprised. It wasn't like he hit her very hard, but you don't see a guy slap a girl like that on TV very often. It wasn't a violent slap; it was more of a pissy slap. But people might be like, "What the fuck? You don't slap a girl."
I definitely had all those concerns. I'm 6'2" and not a small person. It's a very aggressive move, so the only possible way into it, for me, was to consider it funny or reactionary. I sort of imagined it the way that dog trainers hit a dog, the way that they pop them on the mouth, and say "No!" It's more like a weird, "Can't believe you just said that!" He's very apologetic after he does it. But it probably is something that will be received with a lot of mixed feelings. I'm curious to see what the reaction is.
Do people ever say things to you directly?
I mean, I live in the East Village, and I feel like that's the demographic who watches that show — or at least a large pocket of them certainly live in my neighborhood. After that third episode aired, a man in my local coffee shop came up to me and said, "Hey, hey. Your dad is gay," which I was very touched by.
Have you been getting a lot of street recognition in general?

That was definitely the most memorable moment. But I've been talking to other cast members about whether we're getting recognized on the street, and everyone says the same thing: It's neighborhood-specific. If you're in Williamsburg, absolutely. If you're in the East Village, absolutely. But then there are little pockets in Midtown where I'm recognized for doing The Book of Mormon but not so much for the Girls stuff. New York is funny that way: You can break down every neighborhood by who's watching what and who's aware of what.
I've talked to other actors who are like, "I don't want to judge my character." But do you think Elijah's behavior toward Hannah was selfish? He knew he was gay for two years but dated her anyway.
I am gay in real life, so I definitely get it. But it's not my story — I wasn't closeted for any amount of time. I never had a girlfriend who I had that experience with. It's less that Elijah knew he was gay and continued to date Hannah anyway and more that he wasn't ready to admit to himself that he was gay. I think that's probably the more common thing, particularly with young homosexuals. Coming out can be super super complicated, especially when it comes to families and friends —and if you already have a girlfriend, what does that mean for her? I hope that changes over time, but coming is very personal and everybody obviously has to do it in their own time. So, no, I don't think he did anything bad.
You have a new show premiering on NBC called The New Normal, where you play half of a gay couple. Do you ever seek gay roles specifically, or does this just happen by chance?
I haven't really. The first big professional thing I did was I was Link Larkin in Hairspray on Broadway, then I went to Jersey Boys to play Bob Gaudio, and then The Book of Mormon to play a Mormon missionary. Then Girls came along with this very funny, very well-thought-out character that's not always seen, and Ryan Murphy came along with this really fantastic script. The New Normal focuses on a gay couple who's using a surrogate to start a family, and that surrogate brings their own family along for this ride, and then the whole group of people come together to bring this baby to life. That story's definitely been on television before, but I think that when other series have shown gay people with kids, that plot has always been the B story line or the C story line — it's never really been the focus. It's very fortunate that this show came along at a time when NBC was willing to focus on these two gay men who are very much in love, who are very committed, and want to start a family. I guess what I'm excited about is that these roles are all of a sudden available — really great gay roles that aren't just the "sappy friend."
Do you ever feel a special investment in the gay characters your play?
Well, there's a part of me that would say I treat every character in the same way — to be as honest as possible with every role. But then, as a gay man, I think there's a responsibility to show a fully realized person, so even though Elijah might not be the the best person in the world, I want to make him as fully fleshed out and human as possible. Because chances are he's gonna represent somebody who's a real person. With The New Normal, I feel even a larger responsibility because it's sort of a new idea for a lot of viewers and Americans, to see Justin Bartha and I play this very much in love couple who just wants to have a baby. We're telling that story for the first time, in a way, for a lot of people, so I think there's a lot of responsibility there.
What do you think of the public reaction to Girls? Were you surprised?

I was a little surprised at the backlash. The show feels like a very honest portrayal of what happens postcollege in New York; I thought Lena nailed that sort of directionless, anchorless, sort of walking-around-fucking-things-up-left-and-right mentality. I was surprised people were calling them spoiled. I heard so many people say they thought it was ridiculous that Hannah's parents were still supporting her. It wasn't my experience, but I had a lot of friends who, postcollege, were still receiving monthly checks from their parents. I don't think it's that crazy. And there's been a little flack for body types on the show, which is really ridiculous. Have we learned nothing from the Dove campaigns? Here's this very smart girl accepting her body and people are giving her flack for it. I don't shy away from reading reviews and articles about shows and stuff, but I haven't read a lot about Girls because some of it is bullshit. Lena is doing a very cool and unique thing right now and it should be applauded.
What are your feelings about race issues on Girls?
It's tricky, because I see it a lot in theater, and I see it a lot in television, too. If you get into multicultural sort of casting for no other reason than to diversify, then it seems false. The show is about this group of people moving to New York with their group of friends from college in the Midwest, so this city creeps in on those people and their lives eventually open up. I'll be honest: When I moved to New York from Nebraska in '97, I came with my best friend, a white girl from Fort Wayne, Indiana. So if I was going to write that as a television series, it would be about two white people. But after a year in New York, our friend demographic opened up. When we got here, we were white-bred Midwesterners sticking together. This is just the beginning of the show.
Some people here have speculated that season two is gonna be, like, Hannah realizing she might be accidentally racist and trying to find a black friend. Is there anything you can reveal?
The organic progression of these characters will sort of come about — and that's about as vague of an answer as I can give right now.