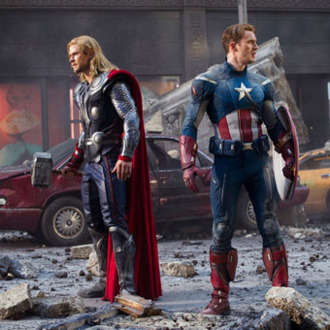 Take it to the bank.
Photo: Zade Rosenthal/?? 2011 MVLFFLLC. TM & ?? 2011 Marvel. All Rights Reserved.
Well on its way to one of the biggest opening weekends ever, The Avengers blew up the box office to the tune of $80.5 million on Friday, the second biggest opening day ever behind only Harry Potter and the Deathly Hallows: Part 2, which earned $91.1 million on its domestic release day last year. The supergroup's onscreen success is not surprising, but consider that it beat mega-hyped The Hunger Games' recent $68 million opener by over $12 million. The Avengers knocked The Twilight Saga: New Moon from the No. 2 spot. 
"Just as importantly," writes the the Los Angeles Times "moviegoers gave the film an average grade of A+, according to market research firm CinemaScore. Such a perfect score is very rare and indicates word-of-mouth will be excellent and many fans will likely return for repeat viewings." Perhaps even more important for its overall draw: Images from yesterday's showings reveal that The Avengers has attracted collectives of delightfully dorky moviegoers dressed as Iron Man, Captain America, and the rest of the gang.