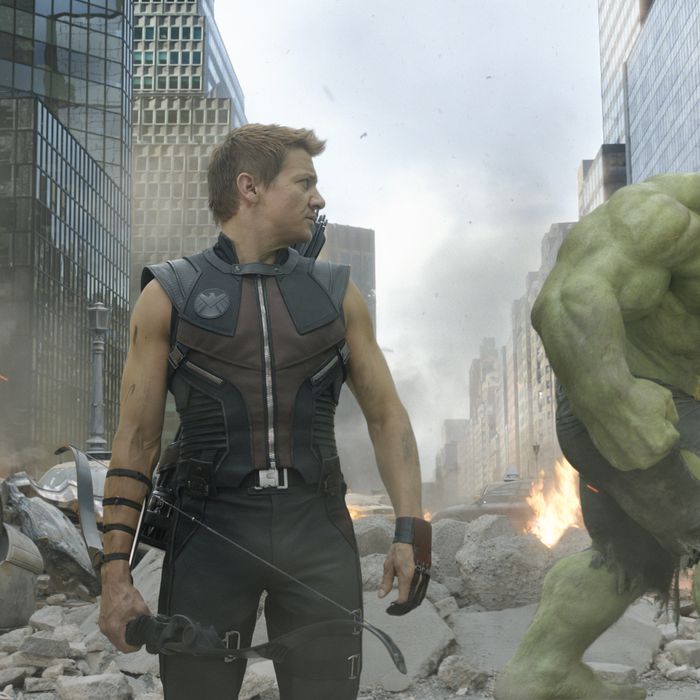 This Weekend's Winner: The Avengers saw its grosses sliced in half. But when you open at $200 million to begin with, that's still good enough to be the biggest sophomore weekend ever.
This Weekend's Underachiever: Dark Shadows can't properly be called a "loser" — at least, not yet — but it certainly underperformed studio expectations. That's never a good sign, since studios always soft-pedal their forecasts regardless to allow studio executives to feign delight at their good fortune come Monday morning.
How It All Went Down: Dark Shadows ran smack into The Avengers. Most other studios knew to stay well clear of Marvel's superheroic squadron — Tim Burton and Johnny Depp's eighth outing was the sole picture opening wide this weekend — but Warners might be forgiven for being taken by surprise.
"They probably didn't see Avengers being a billion-dollar movie," said one rival studio chief simply.
But to hear another high-level production exec at another rival studio tell it, Dark Shadows was always going to be a tough sell. For one thing, instead of playing it straight and appealing to fans of the Gothic soap opera, it went for camp — and that's where things get tricky. "It's neither fish nor fowl," said this exec, adding, "Horror-comedy is the most difficult kind of movie to make."
Of course, it's not what Dark Shadows does here that's germane, but what it does around the world, as one talent agent rightly points out: Depp and Burton's Sweeney Todd, for example, made twice as much overseas as it did in the States.
The problem is, Shadows also opened in 43 foreign countries this weekend, including some big ones, like France, Germany, and Russia, and still grossed only a tepid $37 million or so. Still, it has yet to open in other hefty markets like Brazil and Japan, so it's too early to call.
Sadly, the undead fared only a little better than the warmed-over. The Weinstein Company's special Mother's Day rerelease of this year's Best Picture Oscar winner, The Artist, in 715 theaters, yielded only $161,000 this weekend, which is barely $200 per screen.