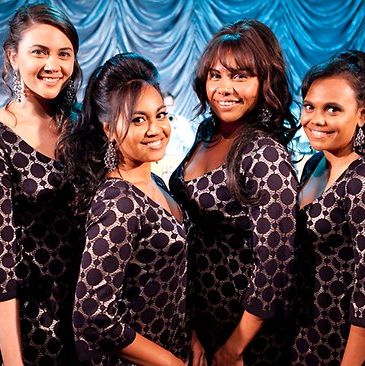 Cannes fare typically veers from heady and provocative (like last year's Tree of Life) to huge and commercial (a slot filled most ostentatiously this year by Madagascar 3). Rarely, though, does one find a little comedy that could. But with The Sapphires, which premiered out of competition Saturday night to a standing ovation and dancing in the aisles, Harvey Weinstein may very well have a new Full Monty — that is, a crowd-pleasing comedy about underdogs coming into their own through performance (though without the naked men).
Set in 1968 and starring a cast of mostly unknowns, save for Chris O'Dowd from Bridesmaids, this is the tale of four Aboriginal sisters and cousins who form an all-girl singing group and wind up leaving the Australian outback to entertain the troops in Vietnam. Basically, it's Dreamgirls minus the star power and serious tone, though it does touch on the Vietnam War and Australia's history of racial discrimination against Aborigines. It was helmed by Aboriginal actor-writer-director Wayne Blair*, and one of the girls, Julie Mauboy, was the runner-up in the 2006 Australian Idol series.
After the premiere, Vulture buddy Steve Zeitchik of the Los Angeles Times tweeted: "Harvey Weinstein just grabbed my arm and said: 'Have you seen The Sapphires? The Artist just happened again." The next night, we saw Weinstein himself at the movie's official celebratory party on the roof of the JW Marriott, where Chris O'Dowd was performing "Sugar Pie Honey Bunch" (excerpted below) with his co-stars. (Weinstein actually shook his shoulders slightly to the music! We saw it with our own eyes.) "I'm having such fun with this movie," Weinstein told us. "It's fun!" But what about that tweet? Did he really say he thought The Sapphires was the next The Artist? "NO!" he bellowed over the music. "Some idiot at the … no, no, no. It got a reception the size of … It was a big reception for a long time. It was amazing. But no, I never said that. It was a misquote. It's its own thing. I really like these people, and it's a good story to tell."
Even if it won't be the next The Artist, the film is a potential breakout hit, and Weinstein can certainly crow about all the money he's going to make. The movie mogul acquired The Sapphires just before the festival, and already he's thrown a brunch for the cast and crew, hosted them for cocktails before the premiere, and put together that soul-drenched big bash with O'Dowd singing lead. Weinstein has been so hands-on, Blight said, that he gave the film's team a detailed, instructional pep talk before entering the Grand Théâtre Lumière for the first screening.
"It's sort of like Henry V: Once more into the breach, dear friends. I don't think he does that that much," Blight said, then began the best nasal-y Weinstein imitation we've ever heard. "He was like, 'Wayne, guys, I love your film. We've got a hit film here. We've got to take our time, you've got the reception tonight. Wayne, when you walk in tonight, Thierry [Frémaux, the Delegate General] will meet you, Christian [another delegate] will meet you. You gotta shake their hands. You gotta have a tie on. You gotta have total respect for this place. They'll walk you in. You're the director, you're the auteur, Wayne. You walk in, you get a seat, Wayne, just take it in your stride. At the end, if you have a standing ovation, you have to stand up. Please do not sit down, Wayne."
* The original post misidentified the director.