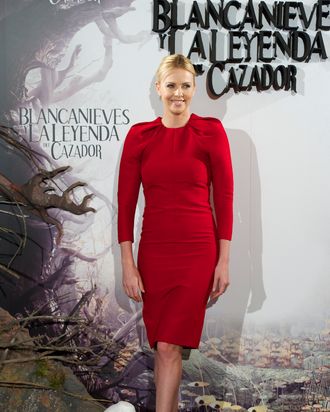 WASHINGTON, DC - APRIL 28: Charlize Theron attends the 98th Annual White House Correspondents' Association Dinner at the Washington Hilton on April 28, 2012 in Washington, DC. (Photo by Stephen Lovekin/Getty Images)
Photo: Carlos Alvarez/Getty Images
Speaking to MTV News recently, Charlize Theron, new mother and Evil Queen (in the upcoming Snow White and the Huntsman) described her oh-so-sensible parenting strategy.
A lot of people have sent me these children's books, and there's this amazing book, a best-seller Go the Fuck to Sleep. This book was fantastic for me because it made me realize that I don't need to judge myself right now … [Jackson] doesn't understand anything right now, and so he just wants my face to look a certain way.
Bleep away Charlize!