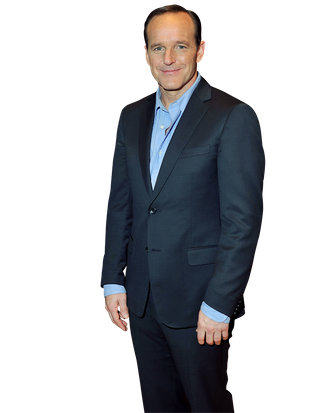 Clark Gregg.
Photo: Stephen Lovekin/Getty Images
Clark Gregg plays one of the unifying threads of The Avengers — his S.H.I.E.L.D. agent Phil Coulson has popped up in both Iron Man films and Thor. And this time around, he even stands up to Loki during a pivotal scene (which we won't discuss here: "I'm very protective of the plot twist!" Gregg insisted). The actor, who also wrote the screenplays for What Lies Beneath and Choke (on top of directing the latter film), hopes to take on even more adventures in the Marvel universe in the near future, even if it's behind the scenes. Joss Whedon, consider yourself warned. Gregg chatted with Vulture about appearing in the comics, his neo-noir project, and Avengers dance-offs.
I love your Twitter feed. Clearly, you're having a lot of fun with all the Avengers paraphernalia that comes your way.
People just send me tons of stuff! Apparently, Agent Coulson is a representative or an avatar of all the geeks. And there is so much love for Coulson, and fan art of Coulson. It's amazing.
Especially considering Coulson wasn't a character from the comic books — at least, until now.
He just made the transition! And it never worked in that direction before now. He was created for the movies, and now he's in the comic-book world? It was a huge day when I saw Agent Coulson was drawn to be recognizable as me. Wow. And just even the fact that Agent Coulson gets to be part of this whole journey? Really? And with that cast? So on the one hand, I'm geeking out with Captain America in the movie, and I'm now in the comic books, too. How is this happening? [Laughs.]
It's been said that Chris Evans would bring the cast together by texting, "Avengers assemble." What would you do then?
It only happened once with all of us that I know of, because we were all very rarely off at the same time. But if we got the text from Chris, we would go into town and have a dance-off, or whatever it is that comic-book geeks do. And Tom Hiddleston is a great dancer.
Is that why you previously said, "Nobody Lambadas like Loki"?
[Laughs.] That was my feeble attempt to give props to the movement stylings of Tom Hiddleston, but from playing Dance Dance Revolution. There was no Lambada in the bar that night, thank God. My dancing was magnificent, by the way, but Scarlett [Johansson] buried me and my poor boozed-up dance-off loser of an ego. But you know, what happens in Albuquerque stays in Albuquerque. That's the cloak of secrecy of S.H.I.E.L.D.  [Laughs.]
You just played Leonato in Joss Whedon's modern-day version of Much Ado About Nothing.
You know, you do a lot of movies, and you only make a friend on a few of them. Usually you go off in separate directions. But Joss is special. I thought he was about to have a nervous breakdown, but during his eight days off between shooting and editing The Avengers, he made another film. I asked him where he was going to go on his vacation, and he said he wasn't going anywhere, and he hoped I wouldn't, either. So we were literally at his house, wandering around going, "So I see I got this message from Don Pedro that he's looking for me." I was like, "Really? This is your vacation?"
So what's happening with the films that you're writing and directing?
Sometimes being an actor is being a song in someone else's mixtape, so I really understand why more and more actors are making films of their own. It makes perfect sense to me. And I've got a neo-noir story about the underbelly of Los Angeles and a talent agent for child actors. It's not dissimilar to Chinatown, in the levels of betrayal and trauma. The hero isn't necessarily a detective, but it's a world in which nothing is what it seems. I'm in the middle of casting that now, and I'll have a part, too — one of the main characters— which I didn't intend when I was writing it, but then once it was there, I couldn't give it to anyone else. I hope to start shooting in July.
Would you want to try writing and/or directing more of the Marvel shorts?
I definitely talked to them about that and other ways to get more involved. I would want to really focus on the characters and the humor, and I'd probably be more drawn to S.H.I.E.L.D. backstory stuff. I really like the relationship between Natasha Romanoff/Black Widow and Clint Barton/Hawkeye, so I'd be interested in exploring that. On the other hand, I'd really like to see what I could pull off in terms of the special effects and how I could realize that kind of vision.
If Joss doesn't want to do the sequel, you could probably talk to them about that, too.
You know what? That's a great idea!
Since you played her ex-husband on The New Adventures of Old Christine, what do you think of Julia Louis-Dreyfus's new show Veep?
I think it's brilliant. I love that she gets to swear like a sailor! [Laughs.]
Which superhero power would you like to have in real life?
I would want the going-back-in-time superpower, so I could take back the stuff that I say and gets me in trouble with my wife. I wish I had it today.