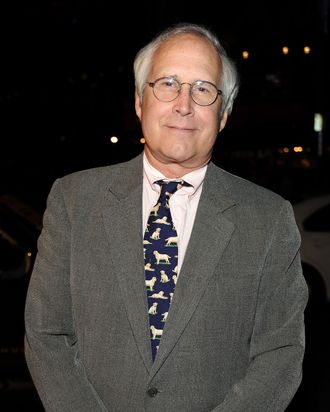 Chevy Chase. (Frazer Harrison/Getty Images for PCA)
Photo: Frazer Harrison/2010 Getty Images
Last time we heard from Chevy Chase on the subject of Community, it was via two angry voice mails left for show creator Dan Harmon that were leaked last month, in which Chase complained that he was not allowed to be funny on what he declared "a mediocre fucking sitcom" that "ain't funny to me." Harmon quasi-apologized to Chase (but mostly to the show's fans) in a subsequent blog post. Since then, all has been quiet and everything certainly seemed fine among everyone's alter egos in the scripted world of Greendale. We caught up with Chase last night at the opening night of the Columbia University Film Festival, held at Lincoln Center's Alice Tully Hall, and asked him about the show. Turns out it's not all water under the bridge — but as we learned, please don't use a cliché like that around him. Here's what Chase had to say:
Will Pierce take his "suspension" or will he give going back to school another shot?
I have no idea. I don't even know if we'll be picked up.
How do you think the fans of Community would react if Pierce suddenly graduated and completely left?
I don't want to talk about that. Why would I? We don't know if the show has been picked up. Even if it had been picked up, I haven't made a deal. I have to go through all that stuff before I can give you my opinion on the character. It's not easy to answer that, because I haven't made my deal yet.
How would you change things on the show?
I'd make it funnier.
How would you make it funnier?
With my brand of humor. I'm not crazy about that character and I'm getting tired of playing him. 
What don't you like about him?
I just don't think the writing of that character reflects what I do comedically, and I love the people I work with. They're all good kids, and they all do very well in their parts. But I don't think anyone has a sense of what to do with me, so I got to play some gray-haired, biased, bigoted guy. I've been too funny in my life to have to play a character who's … moderately funny.
Has the controversy around the show increased its chances of getting renewed?
There is no controversy. I don't know what people have been told, but it's over. I spoke to the producer [Dan Harmon]. That's long gone.
When was the last time you spoke to him?
I'm not going to tell you when was the last time I spoke to him, but like I said, that's long gone. I don't remember.
Would you say "time heals all wounds"?
I wouldn't answer such a cliché.