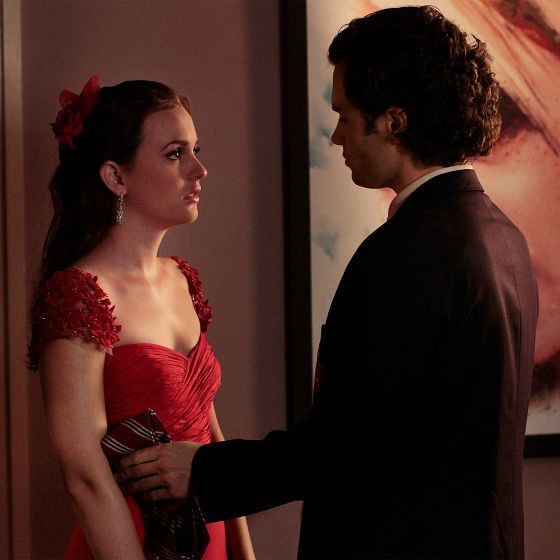 Pictured (L-R) Leighton Meester as Blair Waldorf and Penn Badgley as Dan Humphrey.
Photo: Giovanni Rufino/The CW
After a season that saw its overnight Nielsen ratings drop by as much as 25 percent in many time slots, the CW will attempt to reboot this fall by adding four new dramas and making changes in literally every time slot on its schedule but one. It's also decided to save its high-profile Sex and the City prequel The Carrie Diaries until January, waiting until Gossip Girl ends its run on the network this winter before debuting the latest sudser from Gossip exec producers Josh Schwartz and Stephanie Savage. That's probably a good thing, since the C-Dub will have its hands full in the fall launching a radically remodeled prime-time lineup.
The changes start on Mondays, where 90210 will now anchor the night at 8 p.m., followed by the final eleven episodes of Gossip Girl at 9 p.m. (TCD inherits the 9 p.m. slot in January.) The CW will go for a medically themed Tuesday, with Hart of Dixie moving to the night (and airing at 8 p.m.), followed by Mamie Gumer in newcomer Emily Owens, M.D. Wednesdays, the CW will attempt to pump some testosterone into its generally female-centric lineup with the Greg Berlanti–produced superhero actioner Green Arrow at 8 p.m. and a relocated Supernatural at 9 p.m. The aforementioned unchanged time slot is, of course, 8 p.m. Thursday, where CW hit The Vampire Diaries stays put at 8 p.m., where it will be used to launch the fantasy-tinged crime procedural Beauty and the Beast, a reboot of the eighties CBS drama, which will air at 9 p.m. The CW's week wraps with Tyra Banks being demoted to Friday nights at 8 p.m. following a disastrous ratings plunge this spring; the good news for America's Next Top Model is that ABC, NBC, and Fox have removed their current reality programming from the 8 p.m. slot in favor of scripted fare. This means ANTM will be the lone network unscripted show in the hour. Finally, Nikita stays on Fridays but shifts back an hour to 9 p.m.
With so much change in store, CW chief Mark Pedowitz says he's going to hold off on launching the network's new schedule until October. This will give the net more time to market the new shows over the summer, while also ensuring the CW avoids going up against many of the bigger networks' September debuts. It should also help limit those long stretches in the winter and spring when the CW airs weeks and weeks of repeats. This year, the CW is also likely to take advantage of the fact that several presidential and vice-presidential debates will wipe away entertainment programming on the big broadcasters, letting the CW offer its younger-skewing fare to audiences not interested in politics. In addition to TCD, the CW is also saving the Schwartz and Savage–produced Cult for midseason.
One last CW note: Today's upfront presentation is scheduled to open with a performance from Flo Rida, who the network says will debut new summer single "Let It Roll (Good Times)." This is not completely trivial: Two years ago, Katy Perry sang a then-new "California Gurls" to CW upfront audiences, and it became the song of the summer. And last May, LMFAO unveiled a little ditty called "Party Rock Anthem"; radio omnipresence followed. As you consider the possibility of a Flo Rida Summer, here's the full CW sked:
MONDAY
8–9 p.m.: 90210
9–10 p.m.: Gossip Girl, and in January, The Carrie Diaries
TUESDAY
8–9 p.m.: Hart of Dixie
9–10 p.m.: Emily Owens, M.D.
WEDNESDAY
8–9 p.m.: Arrow
9–10 p.m.: Supernatural
THURSDAY
8–9 p.m.: The Vampire Diaries
9–10 p.m.: Beauty and the Beast
FRIDAY
8–9 p.m.: America's Next Top Model
9–10 p.m.: Nikita