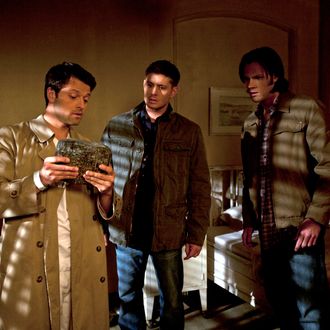 "Reading is Fundamental" - (l-r): Misha Collins as Castiel, Jensen Ackles as Dean, Jared Padalecki as Sam in SUPERNATURAL on The CW.
Photo: MARCEL WILLIAMS/THE CW NETWORK
The CW announced three early pickups today: Veteran shows Supernatural, 90210, and The Vampire Diaries will all be back next season, which isn't all that surprising, especially since the CW hasn't had terrific success launching new shows recently. Conspicuously absent from the list of returning favorites, though, is Gossip Girl, whose fate remains uncertain.