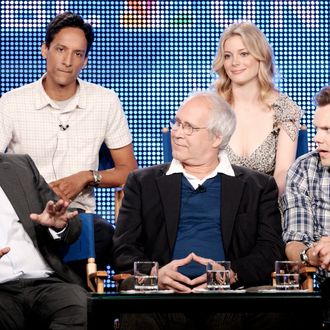 Dan Harmon with the Community cast in happier days.
Photo: Frederick M. Brown/Getty Images
It's been nearly 100 hours since the news broke that Community creator Dan Harmon had been fired from his show. Harmon quickly posted a note to his blog explaining his understanding of the situation, while fans — many of them in the media — began a relentless assault on NBC and the show's production company, Sony, for even considering the idea of producing the show without its creative soul. "Down with the suits!" was the traditional, inevitable reaction: Harmon is an auteur who from the beginning was the guiding vision of the show, and he quickly became the off-camera face of Community. To acolytes of the sitcom, firing him was heresy. However, as much as we may love Harmon's work on Community, it is our journalistic duty to take a clear-headed, unbiased look at just what went into a decision that left so many people Chang-ry and dean-sappointed. Warning: As we look at some of the difficult questions behind the Harmon ousting, hard truths may follow.
Community without Dan Harmon is not Community. So why are NBC and Sony even bothering to keep going?
Most coverage of Harmon's dismissal has focused on supposed creative differences between Sony and NBC on one side and Harmon on the other. This is not illogical: From almost the moment it premiered, both the studio and network have repeatedly expressed an interest in seeing Community reach a broader audience and in making it more accessible to those who haven't yet become fans. It is called broad-casting for a reason, after all. Harmon rejected these appeals. However, saying he was fired because he wouldn't make the show NBC and Sony wished he would make is too simplistic an explanation for what happened.
After all, NBC and Sony did give Harmon wide creative berth to do whatever version of Community he wanted to do for the past three years, even as the show's ratings have declined every season since it debuted. Neither the network or studio wanted Harmon to radically alter the Community universe, people familiar with the relationship tell us. They quickly realized the show's quirkiness, themed episodes and obsession with pop culture had provided the show with a very loyal, social media-friendly core audience. The problem, sources say, was that Harmon didn't want to take any notes at all, even if the studio or network suggested a proposed episode was a good idea but might work better in the overall flow of the series if it aired later in the season. If the ratings were amazing, this probably wouldn't have been an issue. But as the audience remained small, Sony and NBC seemed to feel frustrated that Harmon wouldn't do anything at all to at least try to make the show more accessible to new fans.
Against this backdrop of stubbornness and low, unbudging ratings, it wouldn't have been shocking had NBC simply pulled the plug on Community earlier this month. Harmon certainly seemed to think either cancellation (or his dismissal) were possibilities: Last week's season-ender was written and directed as a potential series finale, according to people close to the production. There's a faction of Community fandom that seems to think this might have been a better outcome than Zombie Greendale: Go for the clean kill rather than let the beast suffer in agony for thirteen more episodes. Hollywood Reporter TV critic Tim Goodman put it this way: "What, precisely, is the point in removing Harmon from Community when the show comes hard-wired from his brain?"
There's no arguing that Community sans Harmon is no longer the Community of the past three seasons. But, having invested more than $150 million over three years to let Harmon make his masterpiece, it's worth noting that NBC and Sony might have some justification in seeing if a modified version of the show — with the same cast and, possibly, some of the same writers — might bring in more eyeballs. As former Cheers and M*A*S*H writer/producer Ken Levine noted on his blog Monday, showrunners are always being replaced in TV land, even on really, really good shows. Something New Girl creator Liz Meriwether told us during our recent comedy showrunner roundtable also seems to apply here: "TV is something that you create in your head, and you write the pilot, and it's yours," she said.  "It's really cool to kind of watch as the characters become so many other people's, as they belong to other writers."
Taking Harmon out of the Community equation will produce a different show, but to argue "What's the point?" before even seeing version 2.0 of the show is to rule out the talents of other potential holdover writers who helped Harmon execute his vision and, particularly, the amazingly talented cast. It also ignores the idea that even die-hard fans of the show were starting to whisper about some of this season's episodes, some of which dived deeper and deeper into Harmon's own rabbit hole of Community-ness. Much the same way latter day Moonlighting fell in love with itself a bit too much, season three of Community — while boasting numerous brilliant episodes — might also have marked the season where the meta overcame the micro.
Having deficit financed (i.e. spent more to make the show than the per-episode fee NBC paid for it) the first three seasons of Community, it does make sense for Sony to want to at least see if there's a shot at extending the show's lifespan beyond the thirteen episodes NBC has ordered, thereby upping their potential syndication profits. As we noted Friday, there's no guarantee that the series will survive beyond thirteen more episodes without Harmon's involvement. In fact, odds are that it will still fail: Its new Friday home does not lend itself to inquisitive new viewers (or any viewers), new creative direction or not, and the Harmon ousting may have alienated the old fans. But it is also true that had Sony not made the change, the next thirteen episodes would've absolutely been the show's last. It's almost certain that NBC and Sony brass discussed both options. The PR and fan blowback that has resulted since Friday's news had to have been anticipated by both parties, and it's a safe bet that NBC chief Bob Greenblatt and execs at Sony probably discussed whether it might not be better to simply let the show die with Harmon in control. And this brings us to the next lingering question.
How did Dan Harmon's management style, and his self-confessed flaws, figure into what happened last week?
Harmon was a passionate and opinionated showrunner who insisted on overseeing all parts of the creative process, from breaking scripts to choosing musical out-cues for scenes. Some (including Goodman) argue that Harmon is no more difficult than any other TV auteur: David E. Kelley, Matthew Weiner, David Chase, and Aaron Sorkin rewrote most episodes of their shows and are famous micromanagers. And it should be noted that, despite reports of Community being over-budget and behind schedule, people familiar with the production insist that, while individual episodes may have overspent (Claymation ain't cheap, people), the oversight of former co-showrunners Neil Goldman and Garrett Donovan and director/producers Joe and Anthony Russo ensured that the series didn't blow past its annual budget allocations. (There's a reason God invented bottle episodes and that Civil War–themed half-hour.)
And yet, there's evidence that Harmon's interactions with upper management and his own staffers went beyond grumpiness or being a perfectionist. Consider a dispatch from Harmontown filed last year in Wired magazine, which outlined Harmon's self-diagnosis of Asperger's and also noted his challenges running a show:
Harmon swears he's not difficult to work for, but being in a room with him for 15 hours a day certainly isn't easy. He's dismissive of some of the show's directors, has meltdowns in the editing bay, and drinks during the day, a fact he attributes to his unusual hours. (Despite having been around Harmon while he's drinking — and drinking with him — I've never seen him actually drunk.) Even Harmon's biggest supporters acknowledge his mercurial tendencies. "It's hard, because he's really passionate," Community writer Megan Ganz says. "He cares about his work in a way that he doesn't necessarily care about other people."
Vulture has spoken to several people who've been connected to the Community staff at some point during its run, almost all of whom consider themselves Harmon loyalists and who credit his genius with making the show what it is. And yet these same people described working under Harmon as one of the most difficult experiences of their professional lives thanks to crazy hours (working until dawn was not uncommon), verbal dressing-downs, and Harmon's insistence for perfection (the scribe all but admitted this in his Saturday blog post noting his habit of saying "'it has to be like this or I quit' roughly 8 times a day"). That kind of explosive and obstreperous passion is only tolerated in certain, profitable circumstances. As screenwriter Noah Hawley (who created the short-lived ABC dramas The Unusuals and My Generation) noted on Twitter last weekend,"It's not that a showrunner is 'difficult.' It's that they're difficult & their show isn't a hit. Personality is a luxury you have to buy."
There's also the matter of how Harmon interacted with higher-ups, both at Sony and NBC. Harmon wrote on his blog this weekend that Greenblatt "never called me once in the entire duration of his employment at NBC. He didn't call me to say he was starting to work there, he didn't call me to say I was no longer working there and he definitely didn't call to ask if I was going to be involved." Leaving aside the fact that it would've been Sony which contacted Harmon about his firing, not NBC, numerous network and show sources say that Greenblatt did more than simply call Harmon: He made at least one visit to the Community set during his tenure at NBC, and that during this trip, Greenblatt had a discussion with Harmon about the show. Two other sources note that Greenblatt interacted with Harmon during in-person powwows with the rest of the production team to discuss the show's creative direction. Overall, Harmon was not known for relishing discussions with execs: Sometimes a writer or producer would have to physically bring him a phone with an exec on the line because he had ignored numerous messages.
It's worth noting that Harmon's innate Harmony-ness isn't something that just sprung up during the last season. While it might have become more pronounced this year, numerous insiders note that Harmon has rebelled against authority and pushed to do his exact version of Community from the show's beginning. The positive spin on this is that Sony gave Harmon all the room he needed to make the show he wanted. But it can also be argued that Sony, by not finding a way to make Harmon color within the lines early on, helped create the problem child they finally put in a corner last week. "They were his enablers from the beginning," says one industry insider.
Will the remaining writers on the show bail in support of Harmon or stay out of loyalty to the show and its fans?
As Vulture reported Monday, new Community showrunners David Guarascio and Moses Port have already scheduled meetings with several of last season's scribes to talk about their futures with the series. Vulture hears some of those meetings have now taken place, and people close to the show believe there's a good chance a number of writers will stay with Community.  
This might seem odd, given how many of Harmon's writers have rushed to his defense on Twitter (Megan Ganz called her ex-boss "irreplaceable"). But now that Sony has done the deed, bailing would do nothing to bring him back, which is one reason the writers may opt to stay put. What's more, the Community writing crew may feel a sense of duty to the show's cast: While Harmon's voice can't be replicated, the remaining writers know the characters very well and might want to stick around in case — who knows — the new showrunners suggest having Shirley suddenly flirt with Buddhism. And ironically, returning to the show will probably be an easier call now for some. As noted above, Harmon often seemed to operate Community as if it were Saturday Night Live, with all-night writing sessions bleeding into sunrise the next day and lots of deadline-pushing. His writing room has had a high burnout rate: Many of the season two writing staff didn't make it to season three. It is also why working on season four of Community will likely be a much more pleasant working experience for staff writers, even if their visionary guru is missing. 
Will Sony's firing of Harmon impact his ability to find a new home in Hollywood?
We hope not. Even before last week's unpleasantness went down, Adult Swim announced it was developing a new show with Harmon. And Vulture has heard that Harmon's agents have already been fielding numerous calls from other networks and even some film studios about taking meetings with Harmon. We've also corresponded with network development execs who've indicated that they've heard the "stories" about Harmon and aren't deterred: They want to talk about getting into business with him. Cool. Coolcoolcool.