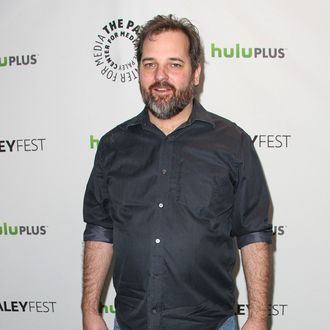 Photo: Frederick M. Brown/Getty Images
Pop-Pop and Boom! Dan Harmon will not be returning as showrunner of NBC's Community, and whether he'll remain involved at all with the series he created remains very much in doubt. Sony Pictures Television, which produces the series with Universal Television, has closed a deal with Happy Endings writers David Guarascio and Moses Port to join Community as showrunners and exec producers. The deal comes less than a week after Vulture broke the news that Harmon hadn't been signed on for season four and that no negotiations between him and Sony had taken place. Vulture hears that now that Sony made its deal with Guarascio and Port, it plans to ask Harmon to remain involved as a writer and consultant — but not as the person in charge of the show. (He's expected to remain a "consulting producer" no matter what). Given Sony's decision to make a deal for Harmon's replacement without telling Harmon directly, it seems a longshot that Harmon will agree to a diminished role. This is a very dark timeline, but for people familiar with the situation, it is not at all a surprising development.


Harmon and Sony have been at odds since the first season of Community, clashing over everything from the show's creative direction (the studio and NBC have both, at times, asked Harmon to make the show at least somewhat broader in its appeal) to Harmon's management style (the producer admitted as recently as last month that he was "damn bad" at key elements of his job not related to what gets on the screen). In addition, Community has been plagued with numerous writing staff defections over its three season run. Most recently, longtime exec producers Neil Goldman and Garrett Donovan announced they were leaving for a new deal at 20th Century Fox TV, while directors/producers Joe and Anthony Russo are also no longer part of Sony and thus are not involved in the show on a day-to-day basis.

According to multiple people familiar with the production of Community, Harmon's flaws as a showrunner were at least partially responsible for much of the turnover the past few years. As one person familiar with Harmon's strengths and weaknesses told Vulture, "Dan is a brilliant at ideas, but he's terrible at [management]." Others, however, believe Sony and NBC execs made errors, too. The fact that Sony didn't even call Harmon to see if a deal could be done — if only to maintain at least the illusion that it was trying to keep Harmon around — will almost certainly be cited by Harmon supporters as proof of the studio's indifference to his involvement with the show going forward.
 
Another sign of the studio's issues with Harmon came last year, when Harmon's previous overall deal with Sony was up. Sources tell Vulture that the studio offered him a one-year extension rather than a more traditional two- or three-year agreement. Harmon, said to be insulted by the studio's lack of long-term commitment, initially balked at returning, people familiar with the situation say; the studio then  offered a one year deal with an option for a second year. The thinking behind Sony's bargaining: If Community didn't make it to season four, it didn't want to keep Harmon on its payroll. Harmon ultimately agreed to a simple one-year deal, potentially giving him more leverage if and when the show was renewed — or making it easier for Sony to do what it has now done by hiring new showrunners.

Even before NBC officially renewed Community last week, Sony began making overtures to other writers on the show to take over from Harmon. Goldman and Donovan, for example, would have been logical successors to Harmon, but they signed a deal with rival studio 20th Century Fox TV, and most likely would not have wanted to do the show with Harmon out of loyalty to the writer. To land Guarascio and Port, it is understood that Sony stepped up with a significant and lucrative extension of the writers' most recent deal with Sony and that it even agreed to give the producers so- called "points" in the series (that's a percentage of the show's syndication profits). The duo have a strong reputation around Hollywood for balancing quirky with mainstream, working most recently on Happy Endings but also creating the critically admired CW series Aliens in America five years ago. It's understood that several studios had been trying to snag Guarascio and Port for new fall shows, with Universal Television hoping to get Sony to loan out their services so they could run The Mindy Project on Fox.

One of the immediate questions raised in the wake of Sony's decision to hire new showrunners is: Given that Sony and Harmon have long had a difficult relationship, and yet somehow managed to make things work, why did Sony decide to make a shift now? After all, NBC has announced a schedule in which the show is set to move to Friday nights and has only ordered 13 more episodes — two moves that would signal NBC has little faith in Community's ability to blossom into a bigger hit at this point, and that these next 13 episodes will likely be the show's last. Wouldn't it have just made sense for Sony to tough it out with Harmon for a few more months, rather than risk a fan backlash over Harmon's ouster? Perhaps, but people familiar with Sony's thinking say the studio is probably figuring that while Community with Harmon would have almost assuredly been entering its final season, a change at the top creatively might somehow result in viewers giving the series another chance and NBC becoming more invested in finding a way to keep it alive beyond the 13 episodes ordered. The studio has been tenacious in the past when trying to keep assets alive (it found a way to get Til Death and Rules of Engagement into syndication), and it didn't want Harmon to be the one person determining whether or not Community lived to see 100 episodes. Sony might have also taken into account NBC chief Bob Greenblatt's ambivalent at best attitude toward Community in general and Harmon in particular. The entertainment division chief could not have been much less supportive of Harmon than when he told Vulture he wasn't too concerned about the possibility of a Harmon exit. "Shows lose showrunners all the time and do well," he said.

And yet, bringing on Guarascio and Port  is no guaranteed solution. In fact there's a chance fans could revolt if they believe the show's quality has suffered because of Harmon's absence. Harmon has cultivated a strong following on Twitter and via his blog, and it's a certainty that this constituency will see Harmon's exit as nothing short of a catastrophe. Whatever Harmon's reputation, in multiple conversations with Vulture, people associated with the show — even some who've had issues with his management style — have repeatedly called him the creative soul of the series, much as Aaron Sorkin was the beating heart of The West Wing. (Sorkin, of course, exited that show three years before its cancellation).  One of Community's biggest assets has been its loyal fan base and strong social media presence, and Sony is undoubtedly inviting a backlash by its actions. And yet: It's also quite likely that many fans of the show have no idea who writes or runs the show, and watch only because of the characters on it and the actors — Joel McHale, Yvette Nicole Brown, Donald Glover, et al — who play them. If the new team produces funny episodes, Twitter's opinion might not matter.  
Update: Harmon has taken to his Tumblr to say that he hasn't heard a peep from anyone at Sony since season 4 was picked up. He also denied that NBC Entertainment chairman Bob Greenblatt had told him he could remain involved with the show.