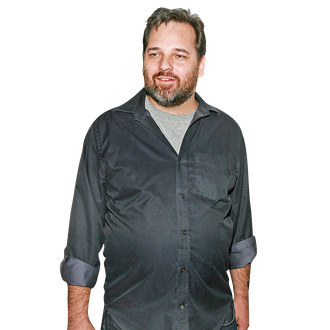 Dan Harmon
Photo: Angela Weiss/Getty Images
Last night, Vulture reported that Sony and NBC hired new showrunners for Community, officially ousting creator Dan Harmon, who seems to be taking it all rather in stride. Exhibit A: this message he posted to his Tumblr, Dan Harmon Poops.
A few hours ago, I landed in Los Angeles, turned on my phone, and confirmed what you already know.  Sony Pictures Television is replacing me as showrunner on Community, with two seasoned fellows that I'm sure are quite nice — actually, I have it on good authority they're quite nice, because they once created a show and cast my good friend Jeff Davis on it, so how bad can they be.
He's referring to his replacements, David Guarascio and Moses Port, who wrote Happy Endings and Aliens in America.
Though Harmon was clearly expecting the move, there were still some long-simmering tensions between him and the show's producers that needed airing out.
Why'd Sony want me gone?  I can't answer that because I've been in as much contact with them as you have.  They literally haven't called me since the season four pickup, so their reasons for replacing me are clearly none of my business. [Also there's] this quote from Bob Greenblatt in which he says he's sure I'm going to be involved somehow, something like that.  That's a misquote.  I think he meant to say he's sure cookies are yummy, because he's never called me once in the entire duration of his employment at NBC.  He didn't call me to say he was starting to work there, he didn't call me to say I was no longer working there and he definitely didn't call to ask if I was going to be involved.
Harmon does concede that as a 10 percent owner of the show and thanks to a "consulting" clause in his contract, he is always welcome back at the office to sharpen pencils and give his edits to the potted hydrangea. But the fact remains that Community season 4 will now become someone else's parody-crazed baby.
I'm not saying you can't make a good version of Community without me, but I am definitely saying that you can't make my version of it unless I have the option of saying "it has to be like this or I quit" roughly 8 times a day.
As staunch fans of the show, we here at Vulture hope he's right at least about the first half, though we are sorely sad to see him go. So farewell Dan Harmon and let's sure hope that poorly mocked-up photo of you having sex with a giraffe never leaks.