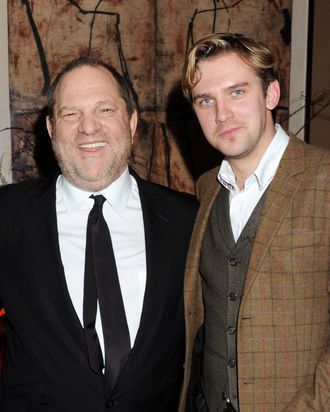 LONDON, ENGLAND - DECEMBER 11:Harvey Weinstein (L) and actor Dan Stevens attend a VIP Screening of 'The Artist' hosted by the Weinstein Company at Charlotte Street Hotel on December 11, 2011 in London, England.
Photo: Dave M. Benett/Getty Images
Dan Stevens, better known as Downton Abbey's resident heartthrob Matthew Crawley, will court Jessica Chastain's Catherine Sloper in an upcoming Broadway revival of The Heiress. Stevens will play Morris Townsend, meaning: (1) You're going to have to learn to dislike Matthew Crawley a little, and (2) you're going to have to accept Matthew Crawley with an American accent. Only for two hours, though.