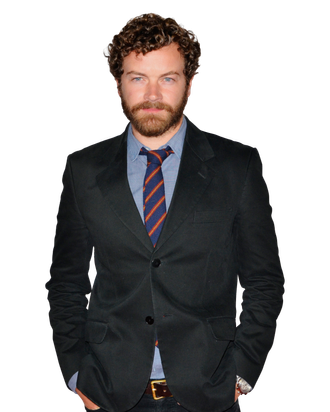 Danny Masterson.
Photo: Suntzulynn for LE/Splash News
Danny Masterson spent eight years as Hyde on That 70's Show, D.J.'s under the moniker DJ Mom Jeans, and co-owns a slew of bars and restaurants with various 70's Show cast members and his brother Chris (Francis from Malcolm in the Middle). In short, even when he's not appearing in independent films or guesting on TV, he's keeping insanely busy. Masterson will next appear in the new TBS sitcom Men at Work, playing a recently dumped and newly depressed guy who has to rely on his friends to get him over the slump — but as he told us, he won't let the new job get in the way of his other projects. We spoke about Justin Bieber, bad TV pilots, and his belief in Scientology.
How do you fit D.J.'ing into your work schedule?
If I'm working, I'm not D.J.'ing. And if I'm not working, I'm D.J.'ing all the time … I'll hit some blogs to see if there's some new and amazing song I have to have, but I don't play Top 40, so I don't have to play the new pop hit unless it's so bad it's funny.
Like what?
I like playing the Bieber shit. It's not that it's bad — that song "Baby" is the catchiest song of all time. I have this amazing electro remix I think MSTRKRFT made, and I play it anywhere. It's only "bad" because he's a really talented 15-year-old who's pretty … people come to see me D.J. sometimes because of That 70's Show, then I make them all rage and sweat. Then the clubs invite me back.
Let's talk about Men at Work. I watched the pilot —
Did you like it?
Honestly, not really. It felt very familiar; the comedic rhythm and writing was really predictable.
I didn't write it, so I can't defend it, but when I saw the pilot I thought, That's a good fucking pilot. You kind of know who we all are, and it's not so explanatory that it's fucking retarded. But you get to know what's going to happen and what are going to be the story lines. We've done five episodes so far, and the last one was the best one we shot. It got weird and funny; my half of the story involves a magic toilet bowl. Pilots are usually a piece of shit, but this was a good enough appetizer for me to check it out. Generally, you give a show three or four episodes before you turn it off.
You must have a different mind-set about pilots, considering you've been in the business for a while.
Yeah, they're painful. Then you get the pilot for That 70's Show, where you get the scene where we're smoking in the basement and the walls are moving — that's why that show went for 200 episodes. But, like, how many shows last a season? So maybe you won't watch past the pilot, but you'll see episode four or five, and maybe we can get you back … I think 30 Rock is the funniest show on television. The British version of The Office, The Larry Sanders Show — those three are the funniest shows of all time. We're not those, but we're going to try and be as good a live comedy as we can be.
After doing a multi-camera sitcom for eight years, what drove you to that format again?
In terms of the work environment, the half-hour show is literally the dream job of every famous cameraman, every director, every actor — it's like rehearsing theater, and it's funny; and the next week you get a brand-new fuckin' script.
I read that your mom was your manager when you were younger.
Still is. She's cool as shit, one of my best friends. My parents had me when they were really young, so we have a cool friendship. She had me leave and get a huge management firm when I was about 18 or 19. I had them for two years, but she was so much better at the job than they were. So it was like, "Mom, can you take me back?"  … She's known every casting director since 1982. When my mom calls somebody, they answer. She has 30 clients; it's not like I'm the only one making her money, but she's dope — a really fun, cool chick.
Do you ever read what people write about Scientology? Someone recently sent me that New Yorker story about Paul Haggis from last year.
I met Paul twice. He was never nice to me. I'd heard about the story from other people, but I was never impressed with his vibe in the first place. So whether he used to study Scientology and has now decided not to, it's like, "Who cares?" Plenty of people are raised Catholic and then aren't Catholic anymore, like any religion.
People are interested, I guess.
It's weird. I guess people want us to entertain and not give our opinion, but we can't stop ourselves because we do interviews where people ask for our opinions. I generally will answer any question about anything. I'm not like, "Don't ask about my penis!" In terms of Paul, I don't know him, I didn't like meeting him the times I met him, then I heard he shit all over something I know is fucking awesome. How can you get mad at somebody for wanting to study something they enjoy?