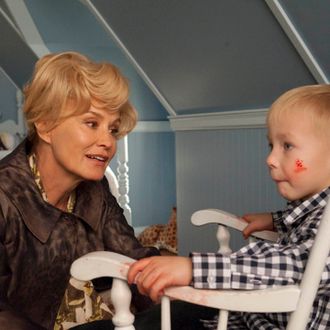 AMERICAN HORROR STORY: Episode 12: Afterbirth (Airs December 21, 10:00 pm e/p). Jessica Lange (L). CR: Prashant Gupta / FX.
Photo: PRASHANT GUPTA/FX
Hey, lead actresses in a miniseries: Jessica Lange just snatched your wigs. The TV Academy announced today that it has effectively cut two Emmy award categories by merging the Lead and Supporting races in the miniseries genre; now there are simply Outstanding Actor and Outstanding Actress. And since the first season of American Horror Story was submitted for Emmy consideration as a miniseries, Connie Britton and all the other leading ladies had better watch out.