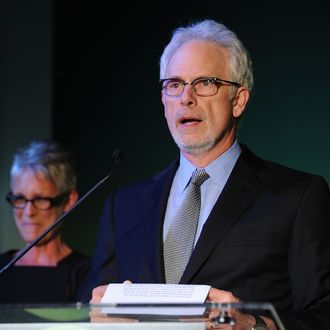 Photo: Alberto E. Rodriguez/Getty Images
"The satirist who writes nothing but satire," Anthony Trollope said, "should write but little — or it will seem that his satire springs rather from his own caustic nature than from the sins of the world in which he lives."
Whatever, Trollope. It's been six years since we last had us some Christopher Guest, and that's way too long. Since For Your Consideration, all the director has produced is an Academy Awards sketch and the odd Census commercial (and really, who can wait a decade for the resolution of such a cliff-hanger?) when what we really want is some simple yet hilarious improvisational satire.
Thankfully, Guest and his fellow Brit moviemaking cohort Jim Piddock (who co-stars in both Best in Show and A Mighty Wind) are hard at work on a new effort. Surprisingly, it's aimed for television, rather than the big screen. We're told it's an improvised genealogy comedy called Family Tree, and it follows the efforts of one man — in this case, Bridesmaids star Chris O'Dowd — as he attempts to track down his real family.
Our spies tell us that Piddock and Guest want to do their half-hour show both largely improvised and commercial-free, à la Larry David's Curb Your Enthusiasm, and so NBCUniversal International Television is shopping the project to various pay services like HBO, Showtime, and even Netflix.
No deals are on the hoof yet, but candidly, we unabashedly love the idea of a single-camera comedy that reunites Guest and his band after so long.
Plot details are scant, but it will be curious to see whether Family Tree in any way glances on the topic of royalty, for it's a little-known fact that Guest actually holds a peerage in Britain: He is Right Honorable the 5th Baron Haden-Guest, of Saling, Essex County.