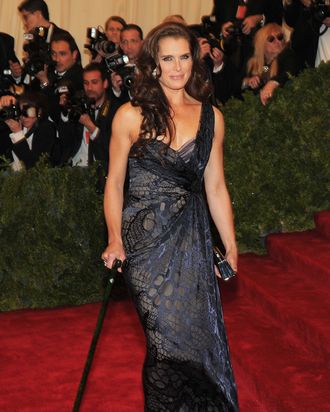 Brooke Shields attends the "Schiaparelli And Prada: Impossible Conversations" Costume Institute Gala at the Metropolitan Museum of Art on May 7, 2012 in New York City.
Photo: Larry Busacca/Getty Images
Brooke Shields and Richard Chamberlain will headline an upcoming stage production of The Exorcist, L.A.'s Geffen Playhouse announced today. Shields will play the mom, Chamberlain will play the sage Father Merrin, and 23-year-old Emily Yetter will play Regan, the little girl who tells priests that their mothers suck cock in hell. According to playwright John Peilmeier, "The story of the battle between faith and evil needed no spinning heads or green vomit," which others might argue is what makes The Exorcist different from, oh, the epilogue in Spoon River Anthology. Anyhow, barf-free play opens in July.