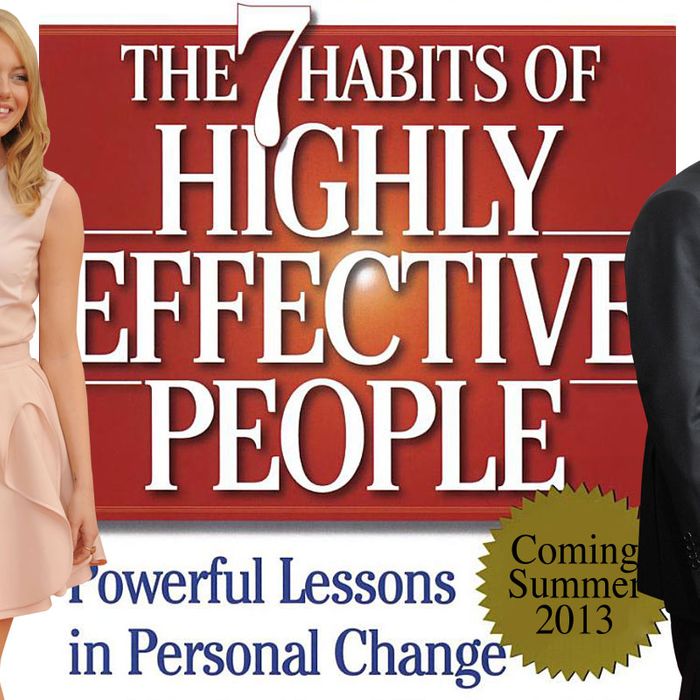 Think Like a Man demonstrated America's appetite for self-help books translated into pop movies, and What to Expect When You're Expecting follows a similar trajectory. Why stop there? There are so very many business guides and love how-tos out there, just begging to be turned into films.
The Seven Habits of Highly Effective People, starring Ryan Reynolds and Emma Stone
Chris Clearwater (Reynolds) was born with a silver spoon in his mouth, the keys to the city in his hand, and a sparkling crown on his head. That's what happens when your dad is the president of Clearwater Enterprises, one of the most powerful and lucrative businesses in the world — not that Chris would know the first thing about it. But when Chris's dad dies, Chris has to shape up before he's allowed to inherit the company. If he can't get into gear, the company goes to his dad's highly effective — not to mention beautiful — assistant, Lila (Stone). Can they both "seek to understand, then be understood"? Can Chris learn to think "win-win"? Is there some synergizing to be done? And is it possible that there's something more than business at play here?
Who Moved My Cheese? from the animators who brought you Despicable Me, starring the voice talent of Justin Timberlake, Craig Robinson, Kristen Schaal, and Patti LuPone
Of Mice and Men? Pfft. The real story of our best laid plans comes from mice Sniff (Timberlake) and Scurry (Schaal), and small humans Hem (Robinson) and Haw (LuPone), the four "characters" at the center of Spencer Johnson's business-building classic. This lovable foursome learns all about how to adapt to change and live without fear — and they learn a little something about themselves and each other along the way. Featuring original music by Elton John.
Men Are From Mars, Women Are From Venus, starring Kevin Kline and Debra Winger, written and directed by Nancy Myers
Professor Julie Gilpin (Winger) knows a thing or two about human sexuality. That's why she's the chair of her department, and one of the nation's leading thinkers in the field. But when visiting professor Rob Winnfeld (Kline) lands at her tiny liberal arts college, his research — not to mention his personality — rubs her the wrong way. Talk about gender reductive! The two go head-to-head trying to demonstrate their theories and support their claims, but sometimes the most important learning happens outside the classroom.
The Power of Now, starring Zoe Saldana
Molly Kimbark (Saldana) has life by the horns. She owns her own thriving restaurant, her new apartment is decorated to perfection, and she and her boyfriend are the envy of all of Miami. [Record scratch.] At least she's supposed to. Instead, she's stranded waiting tables, crashing on a friend's couch, and still sorting out her nightmarish breakup with her jerk ex-boyfriend. But it's not going to stay that way. Molly's starting to embrace "the joy of being" and she's sure that transcendent acceptance — or at least a better tip — is right around the corner.
The 4-Hour Work Week, staring Zach Galifianakis, Idris Elba, Paula Patton, Jenna Elfman, Sandra Oh
Twenty-five years ago, they were the officers of Edgewood High School's Future Business Leaders of America club. Now they're stuck in middle management, running the family business, staying home with the kids, kissing butt — everything except what they said they'd do. They reconnect at their reunion and vow to change everything, one four-hour work week at a time.