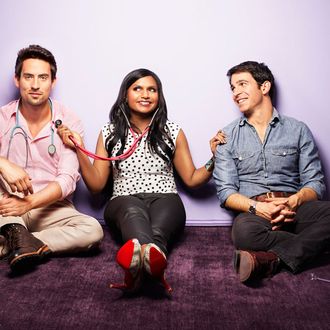 Photo: Autumn De Wilde/FOX
Fox's Upfront this afternoon had way more star power than NBC's morning presentation, and that seemed like a running theme: Fox honcho Kevin Reilly dinged The Voice multiple times, and Simon Cowell got in a few digs, too. However one feels about NBC's singing series, though, Reilly's suggestion that The X Factor is "the original" seems off, at best. So, what did we learn from Fox?
1. They're Serious About X Factor
Serious enough to trot out Britney Spears and Demi Lovato. Britney sounded hoarse but said she was "so excited for this whole experience," and Lovato seemed perky and vowed to "represent [her] generation." We shall see!
2. Fox Care About You, Ladies
Reilly called Ben and Kate writer Dana Fox "part of the fempire" of female comedy writers, Mindy Kaling's new comedy, The Mindy Project, got a very hard sell, and New Girl and Zooey Deschanel got more time and attention than just about everything else combined.
3. Ryan Seacrest Can't Host Everything
Yikes. Seacrest emceed the event, but his crummy jokes (Scotty McCreary material? Really?) and the presentation's awkward Idol gags sucked all the air out of the room. Stuffy is one thing, but awkward is another.
4. Mary J. Blige Is Available
If you want to make NBC's Smash performances seem like small potatoes, bring Mary J. Blige out at the end to sing "One." The impact is slightly lessened, though, for those who remember that she sang the same song at the ABC Upfronts in 2006.
5. It's a Good Time to Be an Adorable Little Girl
Fox had quite a few precious kids in the pilot promos: Ben and Kate, about a screw-up brother who moves in with his sister and her young daughter, features a 5-year-old character; The Mindy Project clip included Mindy's BFF's sassy little girl; and even the promo for The Mob Doctor, a drama about, well, you know, starts with a flashback to the doctor's childhood.
6. Fox Was Not Clear About The Dress Code
Fox opened the presentation with two dozen or so of its stars, none of whom seemed to be on the same page about how formal the occasion was. Some were in jeans (Zach Gilford, who's on Mob Doctor), some were in suits (Max Greenfield, always appropriate), some were in baffling mullet-dress formal wear (Naya Rivera, fire your stylist). Let's get on the same page, everyone.
7. But They Were Clear About Being "Cross-Platform"
And being dedicated to social media. They deliver "both impressions and expressions," said one exec. Yipes.
8. It Is Time to Retire "Raise Your Glass"
It was already time to retire it from promos and sizzle reels and movie trailers and Glee and graduation montages and everywhere else, but now it is really, really, really time. The Ben and Kate promo was already wading into dangerously clichéd territory (flirting lessons, a charming deadbeat, talking to a child as if they were an adult) before the Pink tune started playing.