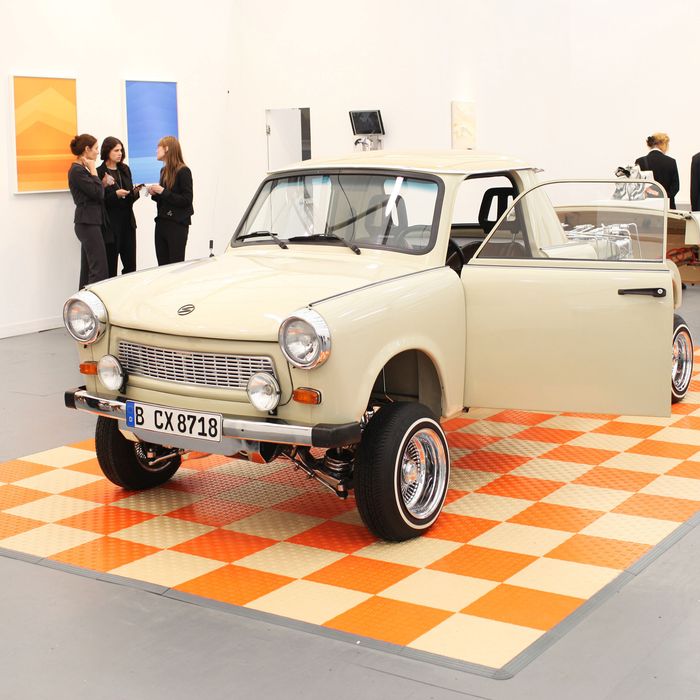 At the Frieze Art Fair New York 2012.
Photo: David X Prutting/BFAnyc/Sipa
New Yorkers only cross water for visual culture if the water is an ocean. The East River throws us for a huge loop. If we started going to Queens and the Bronx for visual culture, many of our rent, space, and crowding problems would be over indefinitely. MoMA and the Whitney might have huge Tate Modern–style retrofitted warehouses. Great numbers of galleries would be able to open and survive. This week's Frieze Art Fair New York, located in a gigantic 280,000 square foot white tent on Randall's Island, could help make all that happen.
My Thursday-afternoon drive up the FDR to Frieze only took twenty minutes. I found a parking place in five seconds. I got out of my car, looked around, breathed, and felt good. Surrounded by water and decrepit evidence of industries gone by, the grass, trees, and huge superhighway supported on gigantic concrete pillars made it feel like a whole other fantastic world: a cross between New York, Venice, and the moon. That it took an art fair to get me here — an art fair taking place less than two months after we had a dozen others in New York — only intensified my feelings. You could smell the sea.
Making my way into the immense white tent that houses the fair, I was shocked. The spaces are wide-open, well lit, generously proportioned, accommodating, sensual. Ceilings soar; a gentle curve in the tent stops vertigo. "How could an art fair feel good?" I wondered. The two-piered New York Armory Show has become drudgy, crowded, comfortably numb. By now I simply assumed that a big art fair in New York wasn't possible. Then I understood what made this art fair completely different than our own: Oxford!
The founders of this fair are Frieze magazine's English executive publishers, Amanda Sharp and Matthew Slotover. In New York and America, we're great at making things big and democratic, and bigger is better — the largest fair, the most galleries, turnover, largest crowds, two piers. That is why the Armory Show is more like a gloomy zoo, giant but visually dreary, shoddy-feeling, and unpleasant. Worse, because it's democratic about which  galleries may participate, the quality level is low. By contrast, the Frieze Fair mirrors the fact that the art business is not democratic but is based on a semblance of talent and ability, a quasi-meritocracy. The fair exudes a tribal feeling. This may strike some as elitist or about who-you-know, but it's actually a good thing, because the Frieze fair is a much better reflection of the serious-gallery landscape than the Armory Show is. An American group starting a fair would find it uncomfortable to screen galleries. The English, by contrast, view it as a responsibility. That process has the added benefit of taking a place that has often become strictly a trading floor and returning it, somewhat, to being a powwow, one where information, not just money, changes hands.
The physical plant is amazing, too: I loved the outdoor sculpture program curated by Cecilia Alemani, the food, and the wonderful feeling of taking a vacation from New York. In its debut, Frieze has already surpassed every other large local art fair. Which is remarkable. Of course, I saw a lot of art that looks slick or too professional, or that looks too much like too much other art. And let's not go overboard; no fair will ever be an ideal place to look at art. These events are always going to be enervating, alienating, and annoying to people like me.
I spent six whole hours at the fair (a long time given that I usually hate these things so much), and good art jumped out. I liked a series of new silver paintings by Rudolf Stingel modeled after Persian carpets; David Zwirner's all-minimalism masterpiece booth; a tightly rendered new painting by Karel Funk of a man's head that looks like a diving bell; Ellen Altfest's teeny-brush-stroked strange still life including a man's hairy ankle; and Sterling Ruby's two huge ceramic atomic ashtrays. Best of all, at Rirkrit Tiravanija's contribution in Gavin Brown's booth, I watched Brown and actor Mark Ruffalo cook up and serve free sausage to all onlookers. The spirit of giving was beautiful. A handout said the work was "in tribute to and in memory of Dieter Roth and David Weiss and all the other great absurdist sausage artists." The feeling could not have been more sincere or the gesture more collectively appreciated.
If the Frieze Art Fair catches on, I imagine at least two great things happening. First, we will once again have a huge art fair in town that isn't too annoying to go to. More importantly, Frieze may finally show New Yorkers that we can cross our own waters for visual culture. That would change everything.