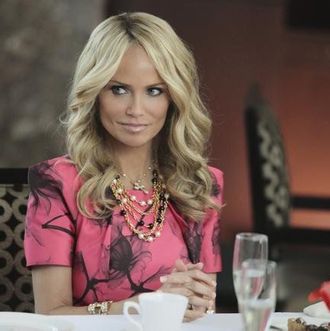 GOOD CHRISTIAN BELLES - The soap returns to Dallas in this wicked new drama that shows that you can go home again… but only if you're ready to face the sins of your past. "Good Christian Belles" stars Leslie Bibb ("Iron Man") as Amanda Vaughn, Kristin Chenoweth ("Pushing Daisies") as Carlene Cockburn, Annie Potts ("Law and Order: Special Victims Unit," "Joan of Arcadia") as Gigi Stopper, Jennifer Aspen ("Rodney") as Sharon Peacham, Miriam Shor ("Swingtown" "Damages") as Cricket Caruth-Reilly, Marisol Nichols ("24") as Heather Cruz, Brad Beyer ("Jericho") as Zack Peacham, Mark Deklin ("Lone Star") as Blake Reilly and David James Elliott ("JAG") as Ripp Cockburn. Based on Kim Gatlin's hit book, Good Christian Bitches, "Good Christian Belles" is executive-produced by Darren Star ("Sex and the City"), Robert Harling ("Steel Magnolias") and Aaron Kaplan. The pilot is written by Robert Harling and executive-produced and directed by Alan Poul. "Good Christian Belles" is produced by ABC Studios.
Photo: Bill Matlock/ABC
News continues to leak out of ABC today, as the network decided to cancel midseason dramedy GCB. With Desperate Housewives going off the air as well, this will leave two slots open on the network's once-formidable Sunday night schedule, where Once Upon a Time is expected to stay put. Other ABC shows to get the axe today include expected casualties The River, Missing, and Pan Am. We're still waiting for a verdict to come on a few other ABC series like Private Practice and Body of Proof.