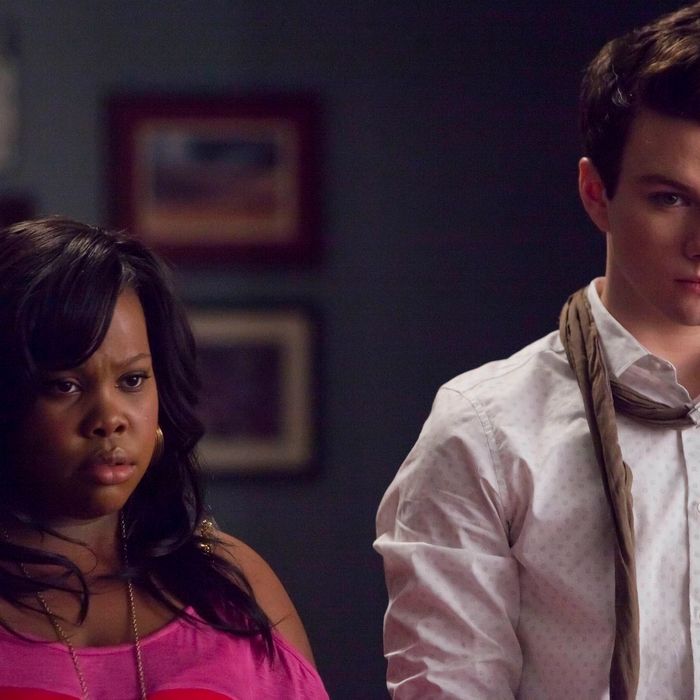 Something I learned from watching the Glee cast's appearance on Inside the Actors Studio (aside from how deeply disquieting it is to watch Matthew Morrison break-dance) is that Ryan Murphy uses his scripts to communicate with his actors — Jane Lynch claims that she's able to tell whom Murphy's mad at just by reading that week's script. One wonders, then, what message Murphy was trying to send the cast (who'll be back for next year's show-on-top-of-a show) by putting together an hour of television that constantly reiterated the importance of realizing you're not all that special and totally being okay with that. But I'm getting ahead of myself.
Straight off: I love that Tina has been so underutilized that they needed to explain who she is and how long she's been around in the "previously on" montage, and I love how three years' worth of rejection are effectively encapsulated in less than a minute. I also love how a few minutes later, there's a shot of Rachel singing the lyric "when I look into your eyes" to her own reflection. I'm not sure if this was an intentional reminder of how awful Rachel can be, but it definitely ensured that I was squarely on Tina's side when she flipped out in the choir room. When Mike stormed out behind her, though, did anyone feel like the black shirt and fedora combination aged him ten or twelve years?
In all the speeches Tina gives in this episode (there are plenty of them, encompassing the entire indoor to outdoor voice spectrum), the most affecting moment isn't her eventual realization that Rachel's life is hard, paying your dues is important, etc. It's when she stands in the hallway and points out that she was singing "Sit Down, You're Rocking the Boat" while Finn and Puck were still throwing Slushies. Framing things that way puts the unfairness of it all into pretty stark contrast, and while life isn't fair, New Directions was always predicated on the idea that being part of something special makes you special, not that standing near someone special while she sings and emotes makes you special. She's right to expect a little fairness.
(Again: It's hard to know how much we're talking about Tina here and how much we're talking about Jenna Ushkowitz. Considering this doesn't ruin the episode, but it's a bit of a distraction.)
I came to this episode fairly prepared to hate the Freaky Friday body swap brought on by Tina cracking her head on a mall fountain. I'd initially thought it was going to be the bulk of the episode, but the way it was contained really worked. It's hard to pick a favorite set of swappers, but some of the standouts: Finn and Puck cuddling as Kurt and Blaine, Santana as Artie, Blaine with Puck's Mohawk, disaffected cheerleader Artie, Mike with Joe's dreads, and on and on. Also, for some reason I wrote in my notes that Finn looked like a field mouse in Kurt's cape, which is both nonsensical and accurate. The weakest aspect, strangely enough, is that Lea Michele plays Tina as a cross between, like, Kristen Stewart and Hans Christian Anderson's little match girl, which doesn't particularly work for me.
I wish that Tina's big solo moment had been something showier than Celine Dion's "Because You Loved Me" or, at the very least, something more timely — it's the love theme for a movie that came out in 1996, but it's nice in her voice. Still, it's hard not to feel cheated on Tina's behalf when her standing ovation turns out to be a dream, and she's Rachel Berry's chauffeur and seamstress for the rest of the episode. But I will say that Rachel and Tina's visit to Carmen Tibideaux finally, finally made Rachel's NYADA desperation palatable. It wasn't because of the speech Tina delivered on her behalf — it was because Rachel shifts from saying that she had to be given another chance immediately or her life would be ruined to telling Carmen that she would audition over and over every year if that's what it takes to prove herself. A moment in which Rachel Berry drops her sense of entitlement for a split second qualifies as a Glee miracle these days.
Much of the rest of the episode is devoted to the process of preparing for nationals (which, naturally, is all happening a day or two before the actual competition): Sue tries to talk Kurt into wearing a dress in order to compete with Unique (bonus points for reminding people that not all gay men cross-dress, Glee — seriously), Sue tries to convince everyone that leg warmers and massive arcs of fire and Flashdance songs are the way to go, and, I'm sorry, was that a HUMAN CENTIPEDE joke? Oh, okay, great, because my little cousins watch this show.
I don't want to talk much more about the domestic violence plotline; the concerns I laid out when it was first introduced still stand (although the "maybe I'll stab him" bits that were added into this episode pushed things even further). I will say, however, that Dot Marie Jones has done a truly commendable job with what she's been given. In particular, the scene where she stands and stares at Cooter without saying a word is one of the best moments of acting we've seen on Glee. Ever. And bringing Puck into the mix is surprisingly effective.
Puck is angry and picking fights with Rick the Stick (this is the second episode with Rick in a row, which I'm semi-assuming means he'll be a series regular next year) who's taunting him for failing out of school. It all culminates in a pretty brutal fistfight in which Puck pulls a rubber switchblade on Rick (a relic from West Side Story! Continuity!). I think this is the best work we've seen from Mark Salling, and he and Beiste's more atypical singing voices blend really nicely. Taylor Swift's "Mean," originally written as a response to her critics, is a little too jaunty to be appropriate as a serious anti-violence screed, but I'll let it slide.
And now we push on through to nationals, which isn't actually going to feature the kids welding in leg warmers, right? Way to leave us hanging on that one.